Sunday's SAG Awards brought out a lot of fabulous fashions. A few people were able to redeem themselves after the
Golden Globes
(cough, cough Judy Green). We saw a lot of solids, especially in reds and whites.
My pick for best dressed of the evening is Zoe Saldana in Givenchy Couture. She looks incredible from her hair to her manicure. I saw this dress on the runway, and Zoe looks even better than the model. It is so stunning.
Kelly Osborn wore a stunning white Badgley Mischka that makes a girl glad Spanx was invented. But what is going on with her hair? Instead of correcting her
Bea Arther
hair, she contributed to the problem with her cascading front tendril. I haven't seen ringlets so bad since St. Francis High School's 1999 prom night.
I don't really understand why all these stars have dresses made by designers predominately known for wedding dresses. They always end up looking like they're at a brides tradeshow. Kaley Cuoco in Ramona Keveza looks like a Creme de Minte pie cake topper. Her Heidi hair may have worked for
Sienna Miller
. Kaley's, not so much.
Michelle Williams looked like perfection in a classically red Valentino dress. Her shoes have a little "dye-ables" feel to me, but I will let it go since she looks so effortless.
I love the color of Julie Bowen's Temperly London dress. It was backless and so flattering on her bony frame. Julie was talking on the carpet about how she has the body of 14 year old boy. Kelly Ripa does this all the time too. Ladies, there is something you can do to combat this - eat something! It's amazing what some calories can do for the physique.
Don't you want to be one half of the real like Jim & Pam?!
This past weekend, my friend told me that I remind her of Liz Lemon. I took this as a total insult (except we do share a propensity to wearing plaid shirts). I came home and told Mr. Fonty, and he instantly said he agreed with my friend! I told him that I am not weird or quirky like Liz, and he proceeds to say, "I think it's compliment, she is every woman's dream, because she made it to the top without having to rely on looks." So, basically my husband just told me I'm like Liz Lemon, because I am boring looking, but have a good personality. Oh well, guess laughing together will be all we have when we're 80...
But anyways... Tina Fey looked rather hip-py in vintage Versace. Her hair and make-up look really pretty, but I think she could have worn a dress with a lot more flair - and a lot less hip.
Kristen Wiig, you are so funny and have an incredible figure. Why, oh, why did you have to top your gorgeous Balenciaga with that disaster Fred Leighton choker?! A big chunky turquoise or coral necklace would have been just the pop this dress needed.
Kyra Sedgwick looked like a KNOCK OUT in Pucci. Good lord. This is how you keep your husband for 23 years. I love her styling and hair. The whole look is perfection. (What is not perfection is that floor length crushed blue velvet, Oksana Baiul costume behind her)
Eeek! Angelina Jolie is reminding us all of her blood vial days. She looked like the queen of the goth group in her Jenny Packham dress. I've seen the magazine headlines saying she is pregnant again. But unless she is growing a tapeworm in her womb, I don't see how a pregnant woman could have shoulders that bony.
I have no idea who Armie Hammer and his wife Elizabeth Chambers are, but they were stunning in Gucci.
Rose Byrne can do no wrong in my book. Her Elie Saab pant suit is so awesome! My only change would be to wear a bright color peep-toe instead of the heavy black shoes she chose.
Thanks for letting everyone know you left home without your undies. But, just something to remember, you play a drama nerd on TV. You are not a sex symbol. Stop trying so hard! Who told her the slit on this dress was even remotely appropriate?! With 2 inches more fabric in the slit, this dress would have been stunning on someone 20 years old - and 2 feet taller. I am afraid her bits are about to fall out in that first picture and her shoes look about 2 sizes too big in the second.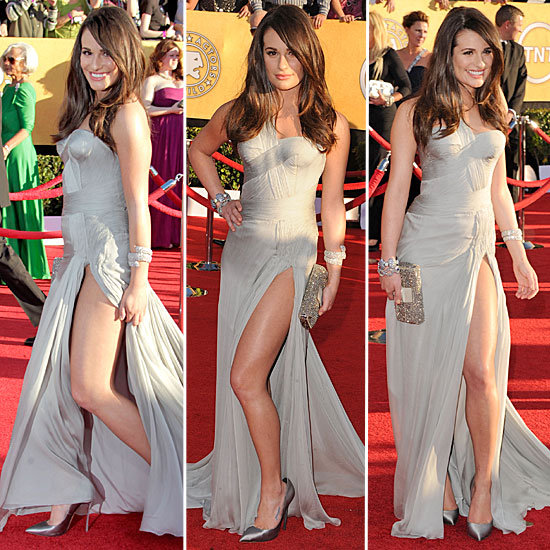 I know I said at the Golden Globes that no one could pull off tea length, well I take it back. Emma Stone looked precious in Alexander McQueen. Her bag is awesome too. I think Stacy Keibler's Marchesa stole some of her lace.
I can't decide whether I like Shailene Woodley's L'Wren Scott dress. She's young, so I appreciate the fun print, but it feels a little too Blue Hawaii to me. Do you think it was a nod to the setting of her movie? That would be way too cheesy.
Doesn't Stacy Keibler look like a Heidi Klum stunt double?
Judy Greer makes a major fashion comeback in this Collette Dinnigan dress. I bet the details are even more stunning up close. And how cute is her hot pink clutch!?
Jenna Fischer, Jenna Fischer... You know you only play a dowdy sales rep on TV right? We will still think you are Pam even if you don't buy your fancy award show clothes at the American Cancer Society Consignment Shop.
Dianna Argon looked fun, flirty, and age appropriate in this pink number.
I never thought Blossom's
floppy flower hat
would be considered an upgrade on an outfit.