Happy Leap Day!
The fashions got even flashier at the after parties. Some stars stuck with their Oscar gowns, but others, thankfully (cough, cough, Cameron Diaz) changed their clothes. Lots of stars just showed up to party, and took the opportunity to try out some risky ensembles..
Ole! Salma Hayek is wearing to world's most expensive Mexican restaurant uniform. Whoever told her to accessorize her peasant girl dress with a side braid should have asked if she wanted chips with that.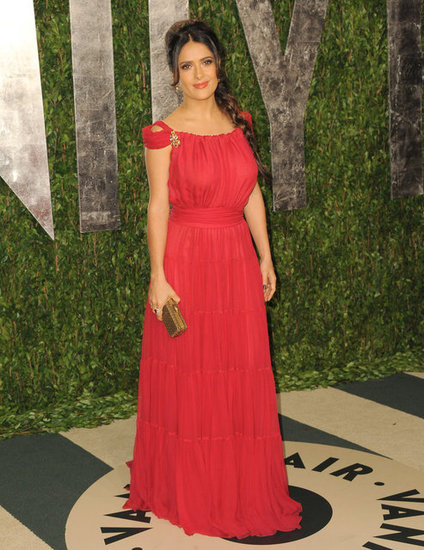 Oh, gee, J. Lo. Didn't expect you to have your boobs hanging out. What a fashion surprise from you. Good thing you wore your serious sexy face, or I wouldn't have recognized you.
I bet J. Lo is pissed that Irina Shayk out-boobed her. Does that skirt make anyone else want to sing "Under The Sea"?
Ladies, for a reference, this is how you don't do colorblocking for spring.
Katie Holmes looks downright adorable! I love her dress and hair, and her styling is perfect. I am loving all these structured metallic belts. I wonder if
Suri
styled her. Tom Cruise while botoxed to frozen perfection, seems to be aging backwards.
Kate Beckensale's George of the Jungle dress is a travesty. But she is so stunningly gorgeous I barely noticed. Can someone get me the name of her dermatologist?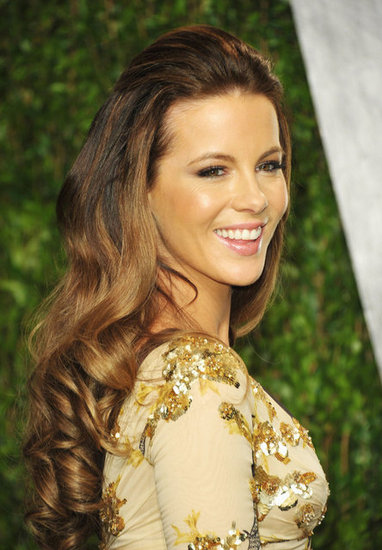 Mena Suvari.. Mena Suvari... This dress is bad, like the baby chick version of Bjork's swan dress, bad. However, I think it wouldn't have looked so awkward if it was on someone 10 inches taller and fell mid thigh. Maybe then it could be pulled off as cute and flirty if it was paired with hot pink shoes.
Whoever is Amy Adam's stylist should be shot. Her Oscar dress and necklace last year was frightful. And this year, she was allowed to leave the house in a dress from the fitting room floor of Forever 21. Her stripper shoes aren't even the same shade of silver!
Karolina Kurkova is taunting me that I will never be a blond Amazon woman. If she can pull off a silver ankle length jumpsuit, the girl really can wear anything.
Was January Jones a judge on Project Runway episode, and I missed it? The prize must have been that she would wear the winner's creation made from one of her Mad Men costumes, and transformed for "today's woman". That is the only reason I can think of that she would wear this bizarre, dowdy outfit to Vanity Fair.
Thank you, Lily Collins, for showing me why short people shouldn't wear ball gowns. I really wanted a dress like this for Prom '99, but my mom said, "No". Now I see what she saw.
I heart Elizabeth Banks, and I love her even more after her cameos on 30 Rock. She looks ah-mazing in her green polka dot ensemble. While I am not one to stand behind feathers on dresses, I like the rest of the dress and her makeup enough to over look it.
Is anyone else thinking about Chaquita bananas? Serena Williams is single handedly making me never want to work a muscle again, especially my gluteus maximus. This booty is way more WWF than WWD.
And this is why Marissa Miller is a supermodel, and none of us are...
Wow, Minnie Driver reveals the father of her child 3 years into his life, and then steps out in this gorgeous number. Minnie, I hope this means you have a comeback on the horizon. I could really use a follow up to
Circle of Friends
.
Kate Hudson missed the Oscar's telecast, because she had a big appearance at the Ice Capades. She had an important couples skate with
Elvis Stojko
. Luckily, she managed to put on her gorgeous red dress, and made it to the party. Too bad she forgot to take off her skating nylons.
Did a 70-year old woman with lots of plastic surgery replace Cameron Diaz when I wasn't looking? Seriously, what is wrong with her face? If this is what plastic surgery does to a woman, I'm taking it as a public service announcement. I do love the orange dress. It has a fab zipper down the back. Just wish it was on Jessica Biel... oooh ZING!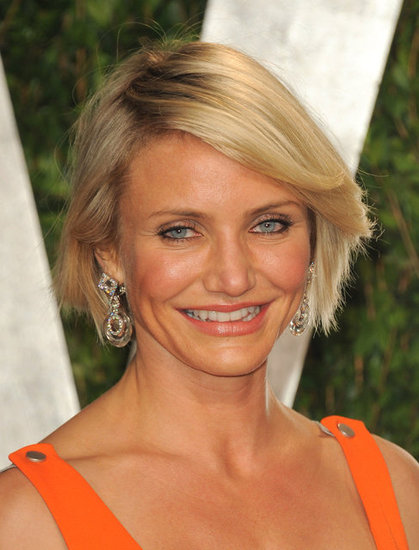 Shailene Woodley, we get it, you were in a movie based in Hawaii. You don't need to dress in costume for the next year.
While I think she needs a little meat and a good tan on her legs, Kate Bosworth looks gorgeous, and look at her cute man!
Diane Kruger is always the coolest girl in a room - and she got Pacey Ritter.
A picture is worth 1,000 words.
What I wouldn't give to be hanging with this crew. Do you think Steve brought out his banjo?
I thought having a child would bring Rachel Zoe to the real world, and make her understand the gloriousness of a cheeseburger, but sadly, she seems to be thinner than ever.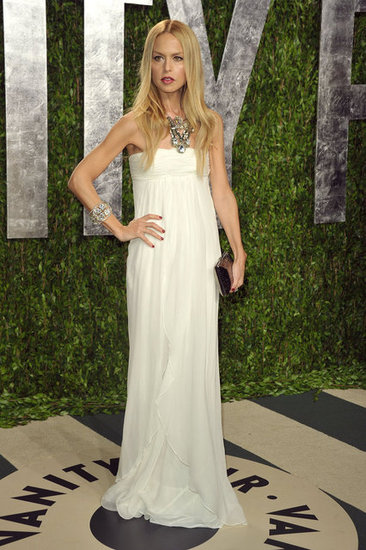 Maybe I have a thing for polka dots, but I LOVE this dress. Claire Danes' hair and makeup is perfect too. Somewhere Angela Chase is really proud.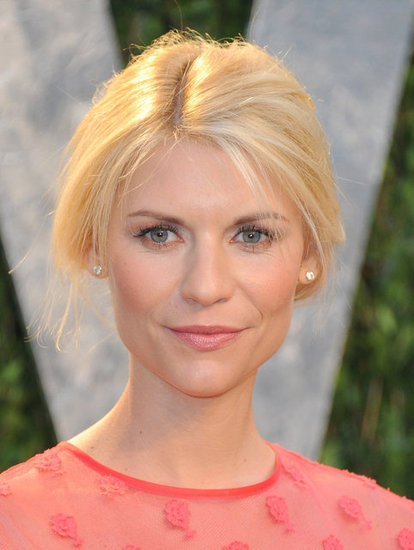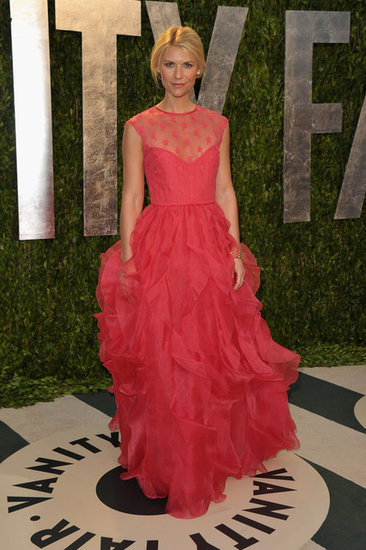 Hey, Paula.. If you have to squeeze your knees in your pose, your dress is too short. And just so you know, you're not a teen being honored at the Teen Choice Awards, so take off your feathered mini dress, and put on something that covers up your hefty physique.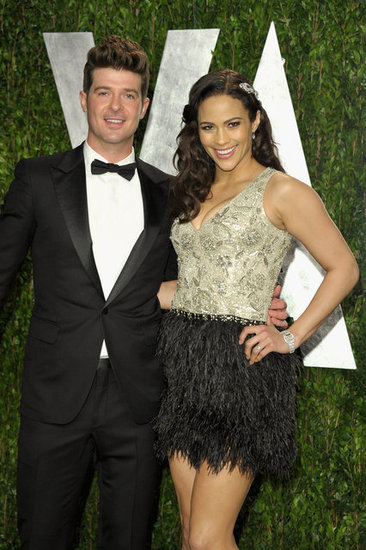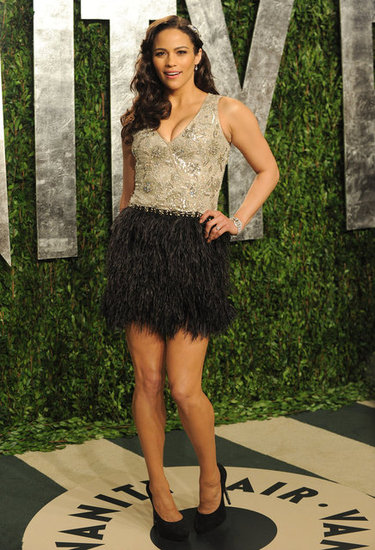 There was a lot of the same look at the Vanity Fair party. Namely this sheer panel black dress-ness.
These are two girls I think can pull off anything, and even they fail and end up looking like Morticia Addams.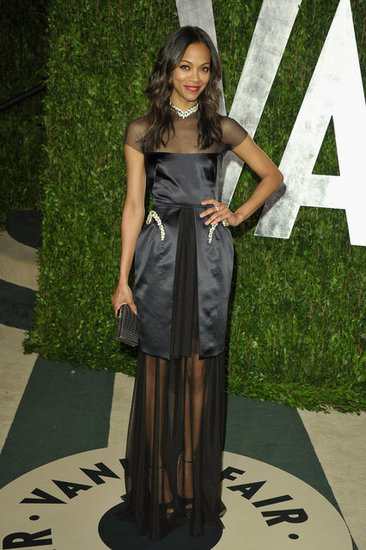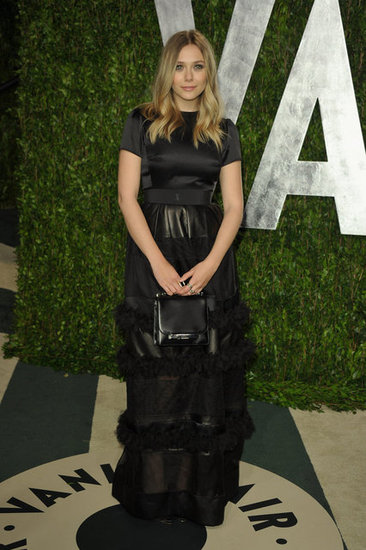 The worst offender by far though, was Ginnifer Goodwin. Is she trying to something for a roll? Is Kid Rock looking for a chick to ride on the back of his motorcycle in a Biker Boyz remake? I also really love the ill suited necklace. It's like someone gave her free swag on the way in, so she threw it on.
Not very many people, and by this I mean, no one, could pull of Emma Stone's peplum dress, but I love it on her.
I feel the same way saying this as I felt about Paris Hilton, but Kim Kardashian looked really pretty. I am so proud of her for covering up and looking sophisticated, and for once, not looking like an extra on Ice Loves Coco. Keep it classy, Kimmy.