First off, apologies for not doing a review on the SAG Awards. It's like all of Hollywood got together and gave their stylists and hair people the night off. It was really terrifying - Pregnant Kerry Washington wore a crop top. A crop top! Pregnant!
Read the Fug Girls recap
in case you missed it.
The Grammys never disappoint. For some reason, people in music have terrible fashion sense. The only award show tackier than the Grammys is the CMAs. This year was no different. No one offended like Britney & Justin, but we had some close contenders.
Number 1's
The only thing Taylor Swift did well last night was don this gorgeous Gucci. If only she would be a wax figure of herself, then she wouldn't ruin all musical events by dancing like an
embarrassing mom
. Taylor, you don't have to be the only person dancing in the crowd for other artists to know that you are a fan. It's not cute, it's not endearing, it doesn't make us think that you are so normal and just like us. It's incredibly annoying - and I wasn't the even people in the 5 rows behind you being blocked by your "Sprinkler".
Katie Perry's hair is certifiable crazy-pants, but as far as event themed dresses go, this one is pretty cute. You can't really tell in the picture, but her wrists are tied with tulle which is complete overkill, and should have been left on the tailor's floor. Her makeup however, looked incredible on camera. I would love to get a Marie Claire how-to from her make-up artist.
Macklemore & Ryan Lewis did crazy Grammy suits right. The Grammy's are too playful for a boring tux, but you can't show up in a t-shirt and tux jacket (I'm looking at you
Keith Urban
). These suits are perfectly tailored, look fancy, but are still interesting and hip.
Sarah Hyland looked fun and adorable, but I would really prefer if she had asked 14 year old me to borrow my Homecoming dance shoes before stealing them from my closet at my parents' house. My Bebe dress won't be the same without them.
Gary Clark, Jr. could have come dressed like Blake Shelton, and I wouldn't mind. His date is super unattractive and not perfect at all. Maybe I have a chance...
Chrissy Teigen looked smoking on the arm of John Legend. Yes, her dress does seem like it may fall down at any second, but I guess the chance of a wardrobe malfunction adds to the sexiness.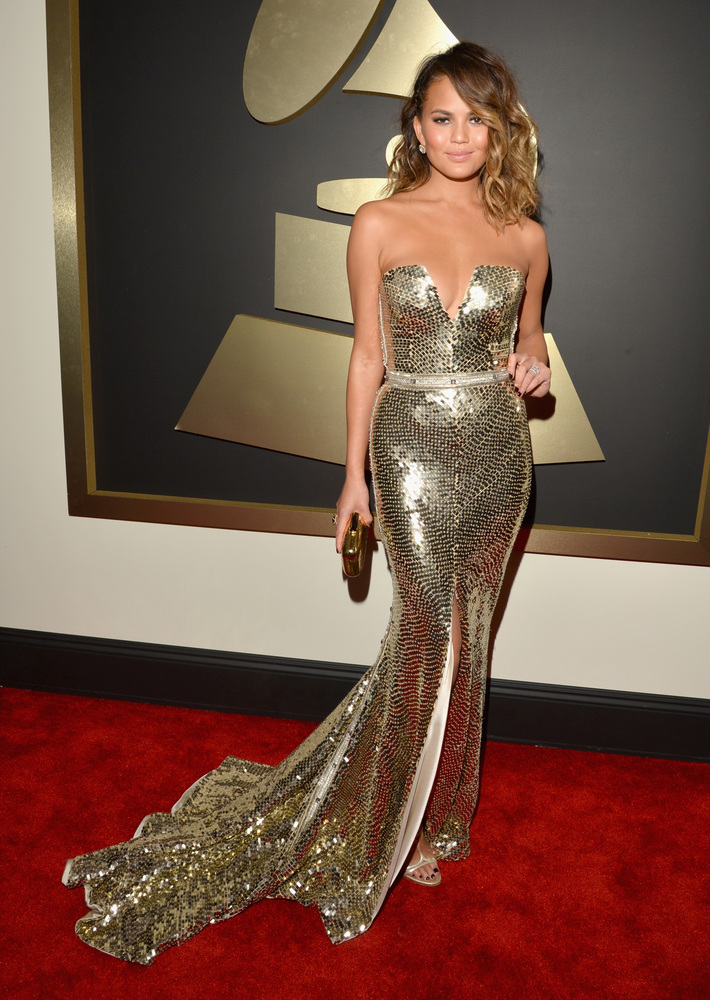 Ciara looked insanely gorgeous. I love this sort of art deco dress. Well played.
Musical Assault
Pharrell's hat already has a twitter account. I think he also might be hiding the creators of Twitter under that had.
Well, if Pink wanted to look like the manliest woman at the Grammys, she succeeded - and that's pretty tough with Paula Patton on the carpet. I'm pretty sure she could crush me with her PINKy finger and then do one of those
pec dances
in celebration.
Robin Thicke of course rocked sunglasses at an indoor event, because that is cool. And his drag queen wife wrapped herself in a sparkly zebra print rug from Z Gallerie. Nothing says classy broad like sparkles and animal print.
Ariana Grande wore this weird, "huh?" face for all her red carpet shots. I think that giant goob Austin Mahone gave her tips. Aside from this bad bridesmaid's dress eating her petite frame for breakfast, Ariana thought since she is coming up on 85 21, she should wear beige pantyhose with her Easy Spirit heels. Maybe that "huh" face is her realizing that her stylist mixed up her outfit with Betty White's.
This pains me so. I love Anna Kendrick (you should follow her on instagram. She is hysterical). I am fairly sure that if the universe brought us together, it would be spontaneous Insta-bestie. No one would be able to interrupt our witty banter between giggles and sips of champagne. It's sad for Anna that she hasn't met me yet, because I would have told her that this dress was wrong on so many levels.
Glynn
, remember when we used to obsess over Jared Leto's brother, Shannon (center, below), when he was in the
Buffalo Tom episode
of My So Called Life? Yeah, about that...
Let's review Paris Hilton's resume: Celebutante, reality television star, XXX amateur, spokeswoman, handbag designer, author, actor, pop star, DJ, and now alternate for the Olympic figure skating team at the Sochi Olympics.
I have zero idea who Chrisete Michele is, and she seems to be so insignificant that a designer wouldn't even loan her a shirt for the big night. Ladies, please reference these pants as the complete opposite of what you should buy when on the hunt for a figure flattering pant.
c

: being out of the ordinary : unusual <a taste for crazyhats>
Thank you, Skylar Gray, for showing us all that full length, flesh tone leather with a high stomach cut-out is a Glamour Don't.
Beetlejuice, Beetlejuice, BEETLEJUICE!
When a bag of cotton balls happen to good people.