Award Season is upon us! I am so happy that Ricky Gervais got another shot at the Golden Globes. He was hysterical last year! I like him putting people on Front Street. It's not as if any of his jokes weren't true - which I guess is why he created such a stir. I see about 3 movies a year, so the awards never mean much to me, but the fashions sure do! Some people were rocking it this year, and others not so much. Here are my winners, losers, and runners up:
Ooooh, Girl! Can I Borrow That?
I have a feeling people will not agree with me on this, but I think Michelle Williams in Jason Wu was fantastic. She properly used the belt (See Jessica Chastain for alternative). I love how this dress could have gone bad ice skater in crushed velvet so easily, but did not.
Emma Stone could have worn jeans, and I would have thought it was cool. Love her belt, dress, shoes, love it all (with maybe the exception of her eye makeup. Something is a little too blue accented meeeee-oowww)
I had trouble finding a picture that captured how stunning Shailene Woodley's Marchesa gown really was. But this was the best I could do.
The Girl with the Dragon Tattoo was one of the best book adaptations I have ever seen. Rooney Mara was so good that I think she may actually be Lisbeth Salander, and this Nina Ricci dress is exactly what I would have pictured the refined Lisbeth choosing for the red carpet. The hair and makeup are absolute perfection. Does anyone have her dermatologist's number?
Claire Danes looked great from behind in this J Mendel.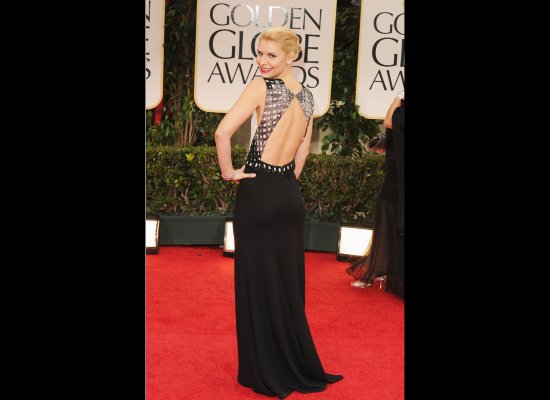 Diane Lane got the 20's look right when a lot of others failed tonight:
I am not sure what Kathleen Robertson is in these days, she will always be Claire on 90210 to me, but I am glad to see she is still at it and dressing fabulously. This dress was even prettier from the side, and I love her earrings.
Modern Family's Ariel Winter was age appropriately dressed in Dolce and Gabbana. She talked on the Red Carpet about how she doesn't have a cell phone, because her parents don't think she is old enough. I love this girl.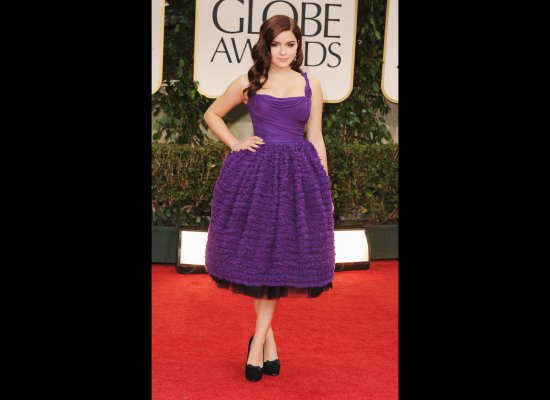 Ooooohhh... Maybe you should have thought twice, Girl:
I loved Kelly Osborne's Zac Posen dress, but what is up with her hair?! Did she borrow hair dye from Bea Arthur?

Just like most every breathing mammal on the planet, I think Zoe Deschanel is adorable. So why would she wear her grandmother's Prada with what appears to be a bad wig complete with sideburns from the Hairspray set?
I don't hate Piper Perabo's choice in dress, but if you are going to go bold with a massive skirt, accept it, girl. There isn't a single picture of her from the red carpet owning this dress. Instead we get a lot of this:
Freida Pinta is perfect and gorgeous and could make a sack look good, but this Prada number isn't doing her any favors. The texture is gorgeous, but the fit is off, and gives her an easy 20 extra pounds. Love her necklace though.
Reese, did you run out of time and forget to do your hair and pull on your hip-hiding SPANX?
G
irl, What were you thinking?
Jessica Chastain in Givenchy. The dress itself was not terrible - minus the ice skater neckline, and if it was on someone 30 years older. Her hair only exacerbated the problem. I think she drove to the Globes from NYC in a convertible. That is the only explanation for the wind blown look she was sporting.
Sarah Michelle Geller wore Monique Lhuillier. And it is fitting that her dress came from someone known for bridal, seeing that it looks like the aftermath of a "trash the dress" session. Yeah, yeah, adorable that her 2 year old picked it out, but obviously she would gravitate to something that looked like finger painting.
Eeek! Amanda Peet! Did Maria Von Trapp run out of drapes and make you a dress from a dust ruffle? At least your makeup and hair are flawless.

Psst... Lea Michelle, you're not Halle Berry (or Liza Minelli for that matter), and you're not 55. Take this off immediately, and put on something pink.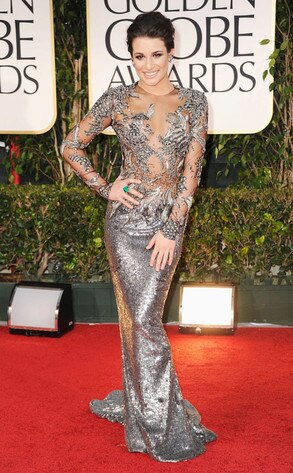 Elle McPhearson, I am glad you are enjoying yourself, because somewhere a stylist is dying laughing that she got you to wear this (But I would still take your body, any day):
Poor Emma Watson. It's like a really bad bridesmaid dress, when you've just given in to the fact that you will look fat and frumpy. To top it off, the tailor hemmed it two inches too short, and at this point, not even a spray tan could help. May as well get out of the shower, throw your hair in a ponytail, and match your flesh tone gown.


Kyle Richards of Real Housewives doesn't really even belong at the Golden Globes, but Yikes! Kyle I love you, but this entire ensemble, hair included, is more suited for the 58th Annual Golden Globes in 1994.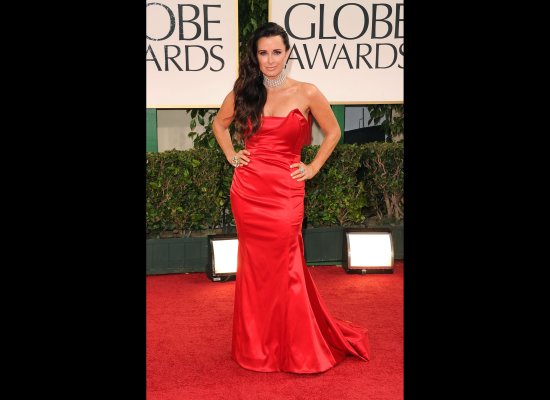 I have to imagine that people attending the Golden Globes have endless dress options. So how did Glee's Naya Rivera end up in a dress from a Project Runway challenge where they transform prison uniforms?!?
Trend I hope we don't continue to see:
Angelina is such a snooze in my book, and this dress (and her predictably boring up-do) is so ugh. Seeing that Natalie Portman wore it's twin in pink, I am hoping this trend is reserved only for 15 year olds dancing in high school gyms at prom where it belongs.
C'mon Dior, get a new look (although both ladies look pretty freakishly amazing)
Charlize in 2012, Eva Mendez in 2009
WHAT ARE YOUR PICKS FOR HITS AND MISSES?!