...they're cutting down trees. They're putting up reindeer, and singing songs of joy and peace."
This time of year always makes me think of Joni Mitchell songs.
And it certainly is coming on Christmas in the Fonty House. My wreaths, garlands, and Christmas tree have all been delivered, hung, and trimmed! Fa la la la la
Tonight I am having all the Athens gals over for a gift exchange party. I've got 3 hours of holiday magic music on my Spotify and oodles of sugary snacks. Let the holiday cheer begin! (I'm hoping my gift isn't a dud - and that the spiked cider will

inspire everyone to play dirty.)
And fingers crossed that I don't have spiked cider-induced hangover, because on Saturday Mr. Fonty and I are headed to Atlanta to cheer on the GEORGIA BULLDAWGS as they take on the LSU Tigers
for the SEC title. Go DAWGS!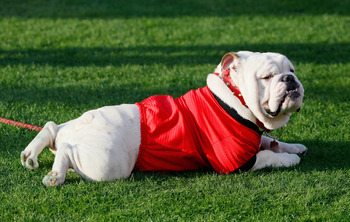 Relaxing Uga
The fun continues after the game when we trek to Wild Bill's to see Dwight Yoakam!! I am pretty excited to dance with a bunch denim tuxedo-ed cowboys.
The one, the only.