Hello, Award Season! There were some big hits and some major misses on the red carpet. We saw some people pull off the long sleeve dress trend, and others look like Amish people. We saw lots of red-orange, some were more successful than others.
Worst Dressed (as if I am surprised):Amy Adams, in Marchesa, called this color "ballet pink". On any other person, I'd give her the benefit of the doubt that the color looks better in person, and she would never opt to wear what looks skin-tone dirty dishwater, but Amy Adams has a sad red carpet track record. This is just another drop in the (dirty water) bucket.
Claire Danes wore a gorgeous red Versace, walking the carpet only one month after giving birth. I loved this dress when she was being interviewed. However, in the photos, it looks so ill fitting. I want to hike the broach up and over to make it tighter. I will give her makeup artist some slack, because I imagine she had dark bags under her eyes, being a new mom and all, but there is no excuse for raccoon eyes on the red carpet.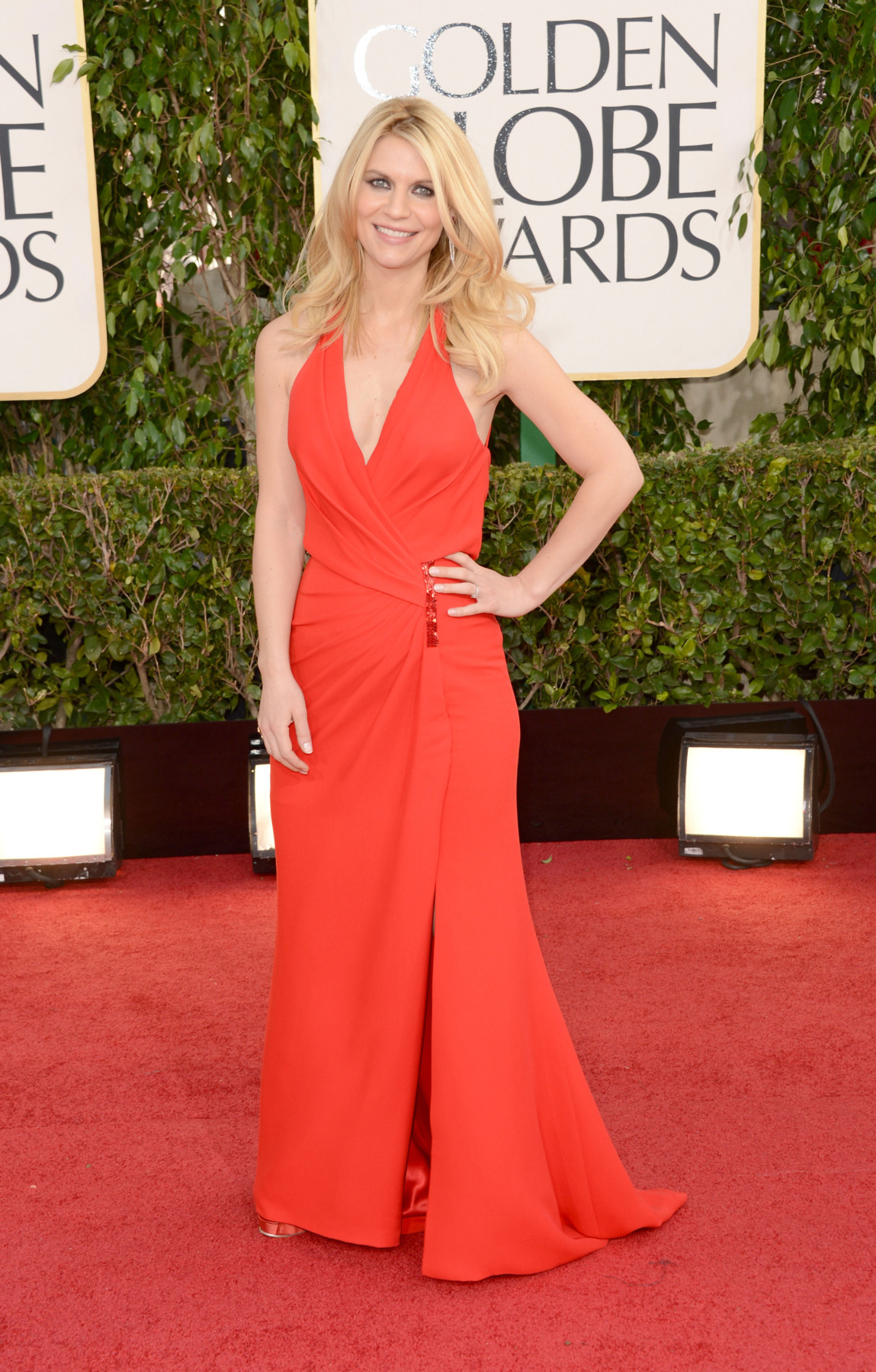 Even though she looks a little strangled, I thought Lady Mary looked gorgeous.Her body must be perfect, because that white leaves no room for a flaw. Sigh... Lady Mary has it all.
I'm not really sure what Sa-Man-TA is doing at the Golden Globes. It must have been last minute, because she picked up this cheap-looking, ill-fitting number at TJ Maxx and didn't have time to wash her hair.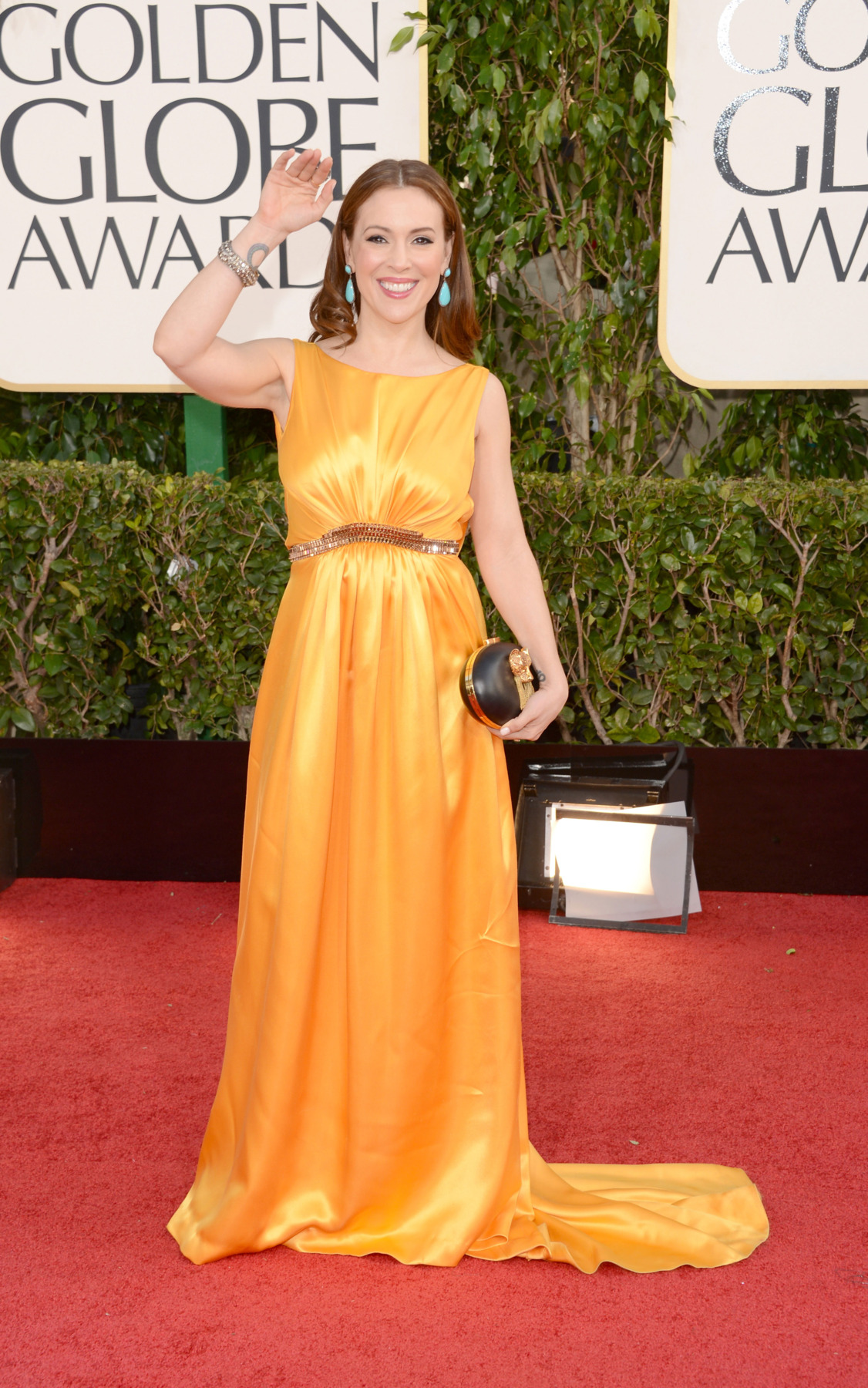 Yeah, yeah, Zooey Deschanel is adorable, girly, and cute. But aren't you getting tired of her full skirted strapless dresses? Even 1950's sock hop fashion evolved. Although, did you see her getting out of her car? I can respect any woman who has a personal ponytail twirler. That's when you've really made it, ladies.
Taylor Swift has replaced Beyonce in the top rank of pop stars that make me want to poke my eyeballs out. And this dress is no exception. Taylor, you're 23 not 56. If you divide the difference between the maturity age of your songs + the age of your dress, I think we get 23. I see where you're going with this though, Taylor. You dress all old lady and conservative in the front, but turn to the side to flash to all single victims men that you are not wearing underwear. Only someone under 17 would fall for that - oh wait, that's your target dating market.
Julianne Moore had Tom Ford design a custom stunner. This dress is perfection. I could have done without the bangle, but everything else is bellissimo!
Adele wore her round neck black dress.
Eva Longoria, we get it, you're a cougar on the prowl. Between the cleavage baring neckline, the open back and the high slit (when shown with light behind her, she was basically only wearing a pair of briefs) you've left zero mystery for your next cub - except maybe the razor blades you're hiding in your beehive.
Oh, Lena Dunham.. Lena, Lena, Lena. I know it might seem cool to find your dress from the 80's date party rack at Goodwill, but this is the Golden Globes. Can I also advise that if you have even the slightest chance of winning an award, wear some shoes you can walk in. Watching you teeter across the stage like a little girl playing dress up did nothing for feminism.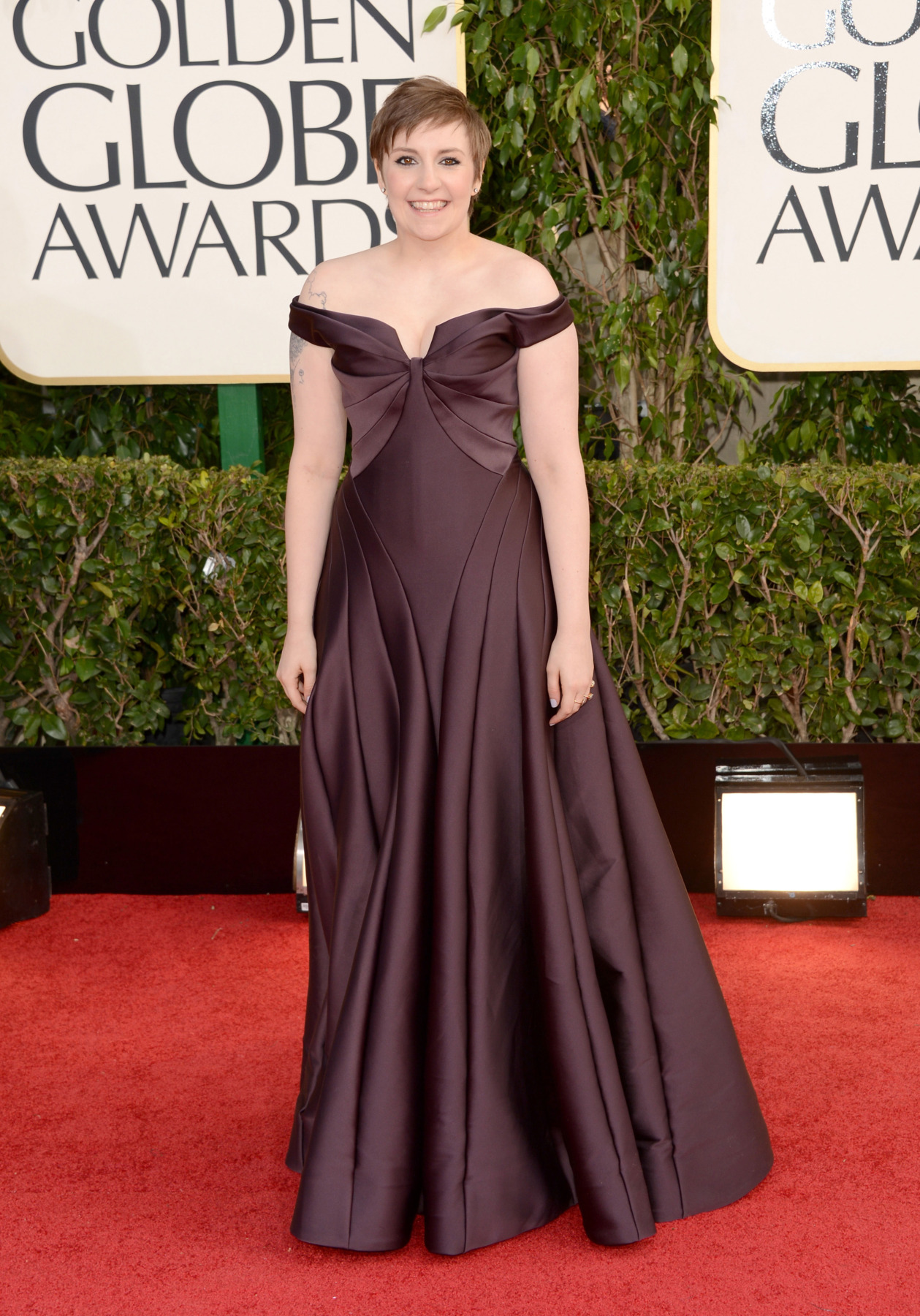 Nicole Richie went from bloated with weird highlighted hair to the boho chic poster child to what she is now, which is some sort of hybrid. I don't get why she always has her high forehead on display. It makes her look long faced and strangely avian. Caa-cawww. Bangs were invented for a reason, Nic.
Nicole, get us back to this girl.
Best Dressed: Nicole botched the long sleeve look, but Naomi Watts hit it out of the park in this burgundy Zac Posen. It had a gorgeous open back that I had trouble finding a picture of. She looked amazing.
Jessica Chastain made the same error in judgement as she did last year - she got really excited about being in California and let the rental car agent talk her into a cherry red
convertible Mustang. She forgot to put the top up and ruined her hair. I am guessing we can blame the wind for ripping out the seams that made her dress fit as well. Because there is no excuse for a droopy boob. Whoever calls this woman a fashion icon is cray-cray.
Jennifer Lawrence confessed that she had the flu. If this is what the flu looks like, I'll take 2! While the top obviously needs a few inches more fabric to prevent her from looking saggy, the color of this Dior is my favorite red on the red carpet.
Didn't even recognize Sienna Miller in her Dazed and Confused costume cast-off.
How cute is pregnant Kristen Bell? Love this dress. If it was slightly less claustrophobic it would be a pick for best dressed.
Marion Cotillard is a favorite as always in custom Dior. The dress looked much more special on TV. Wish she had done a little more with her hair though.
Juliana Marguilles looked banging in her Pucci with an open back. I felt like her sleek ponytail made the look too young though. I wish she has an interesting up-do.
I know she's a dancer, but Julianne Hough should have left her Sugar Plum Fairy costume at home. It really doesn't match her Miley Cyrus mohawk either.
Sarah Hyland is 22. Not a 50 year old extra in Burlesque.
Hey, Jenny from the Block, I'm glad you are still dressing naked on the red carpet to get attention. Makes me feel like it's 2000 every time you get dressed for an award show.
Does anyone else have "These are a few of my favorite things..." stuck in their head? Maria Von Trapp would be proud.
I have no beef with Anne Hathaway, but was that the most obnoxious acceptance speech ever? It was so rehearsed and full of pre-written cliches - "a blunt object to crush self-doubt" gag. I also hate her hair. It hasn't looked this bad during all the press event for Les Mis. Did she forget her hairspray? Her dress is pretty, but forgettable. Suddenly, I don't care if she wins an Oscar.