The SAG Awards were last night, and I didn't watch even a second of the actual red carpet or show. I don't even know where TNT is on my dial. But, thank goodness for the internets. I got all the info I needed via the wide world web.
While I am a wee tired of Zac Posen recreating the same dress (seen here, here, & here), Amanda Seyfried looks fab. Her long Lorraine Schwartz necklace keeps the sophisticated dress looking young.
Jessica Chastain in McQueen on the other hand is slightly less successful. I sort of hate redheads in red. In my opinion, it is less Jessica Rabbit and more Crayola crayon. Also, doesn't she have a staff of people who's only job is to fit her clothes? That hemline is atrocious.
I am not sure what makes this snooze dress from Dior an Haute Couture gown. It has some folds, but that is about all the excitement I am getting. Jennifer should have taken a note from Amanda Seyfried and worn fun, chunky jewelry. Like Jessica Rabbit-Red up there, her jewelry disappears.
Kerry Washington wore Rodarte and a bad hair-do and a scared look on her face. I'd be a little horrified if my stylist did this to me too. Kerry, I am a short girl too, and fitting a mini bod in something made for Giselle is never a good option. I am sure this dress would be stunning on someone about 6'1", not 5'2"/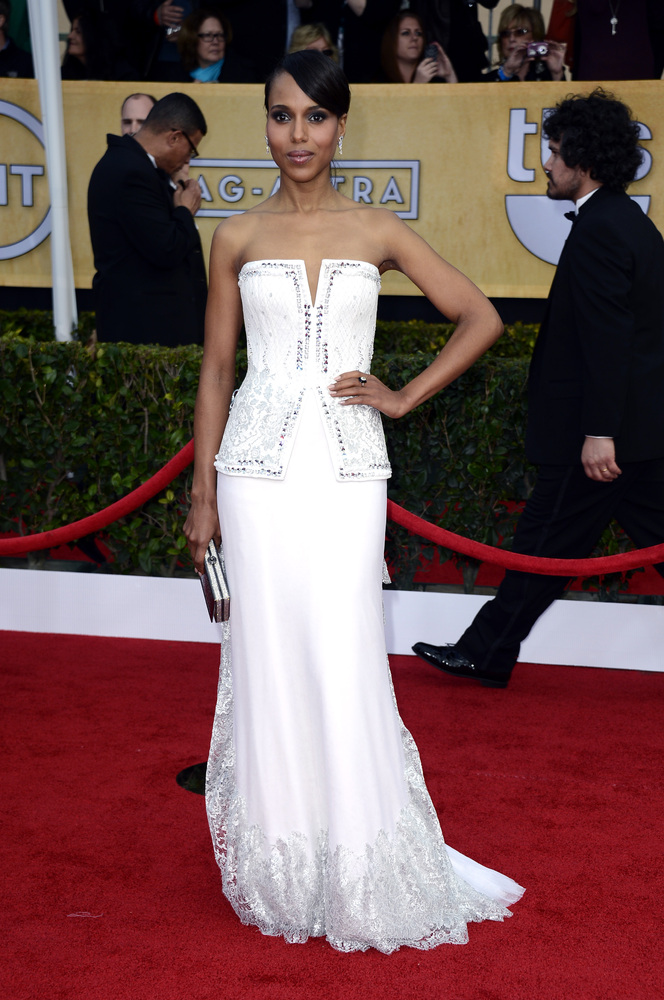 Claire Danes fell off her fashion throne in this Givenchy gown. I am not sure if it is the goth lip that is throwing me or if the dress is just ugly.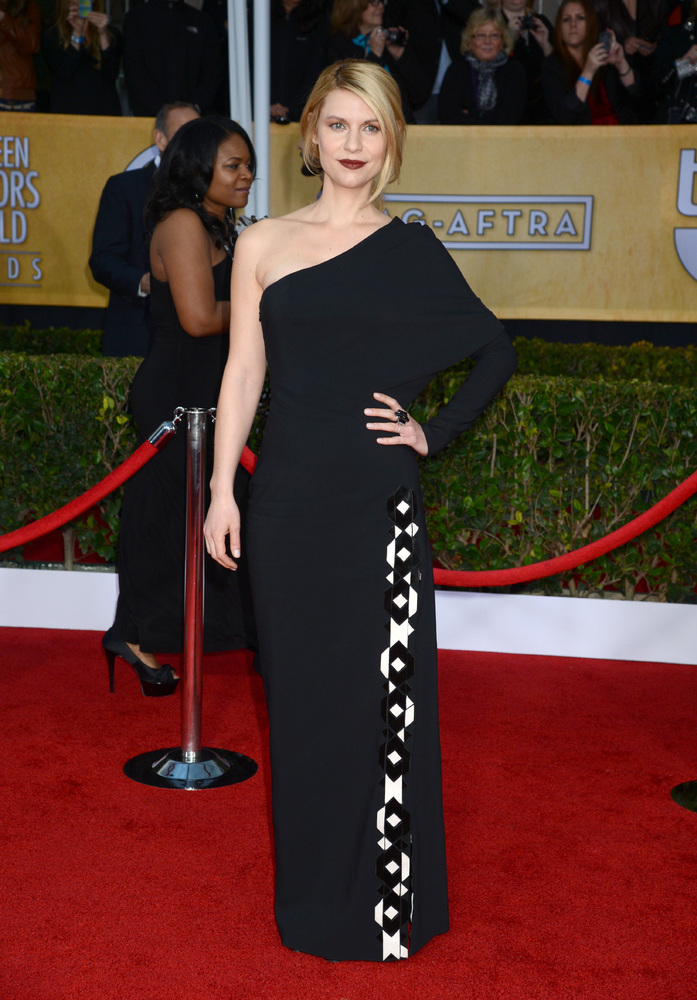 Best Dressed Nominee: My crush on Marion Cotillard continues. I think she could show up in this crazy number, and I would still be in love.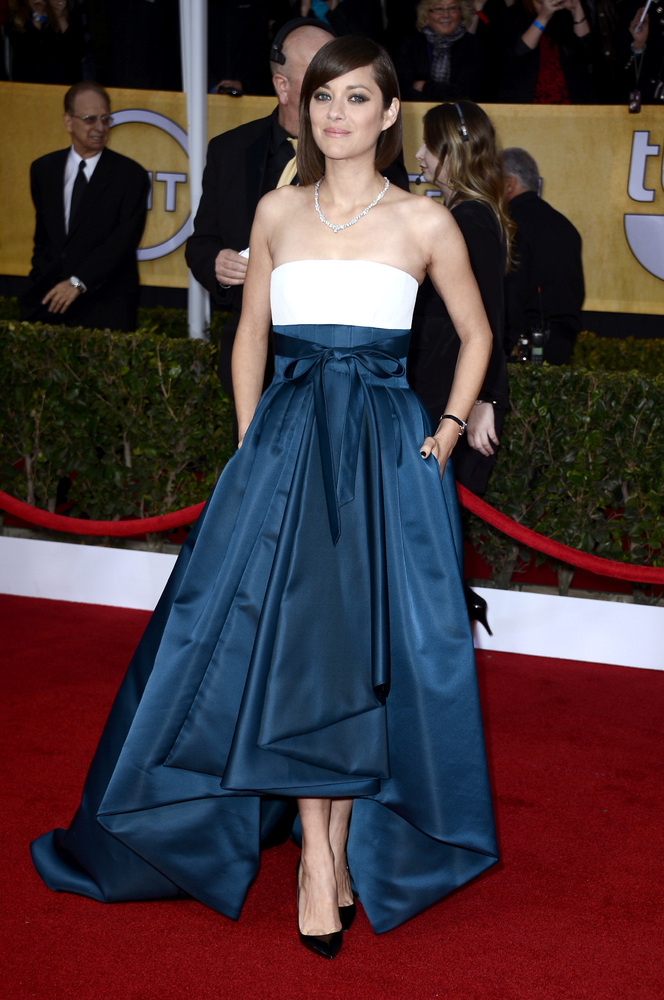 Julianne Moore went from perfectly dressing for her age to letting the girls it all hang out in Chanel. White on that skin tone ain't doing anything to persuade young girls away from the tanning salon either, Julie.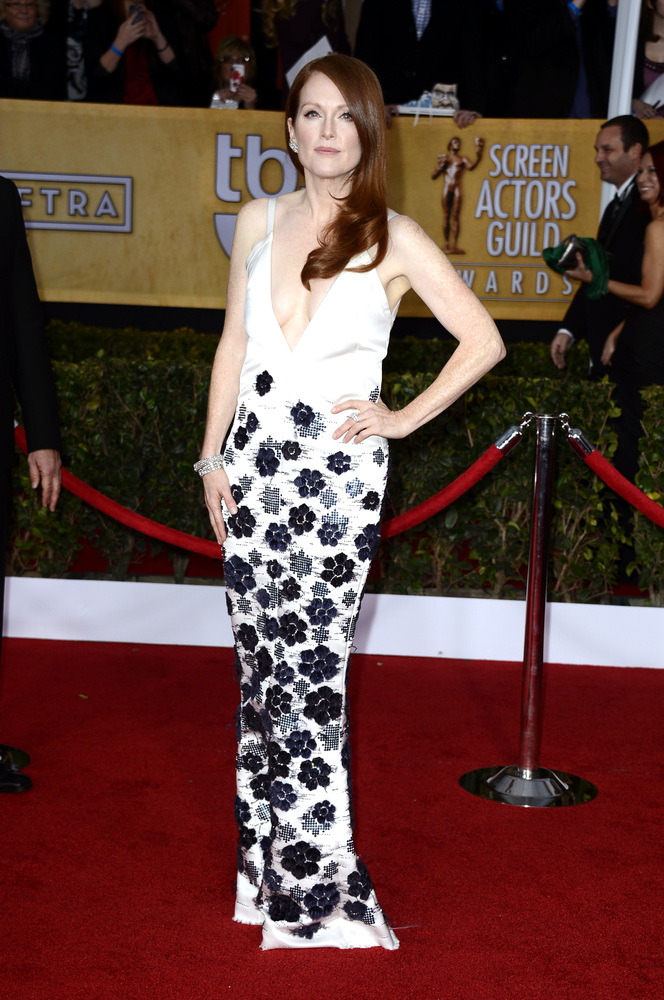 Yes, January Jones is pretty cray-cray, like ate placenta-stew crazy and shows up to the SAG Awards as the fifth Depeche Mode member crazy. But her hair aside, I like this Prabal Gurung number. January can always be counted on to push the envelope, but still look super regal doing it.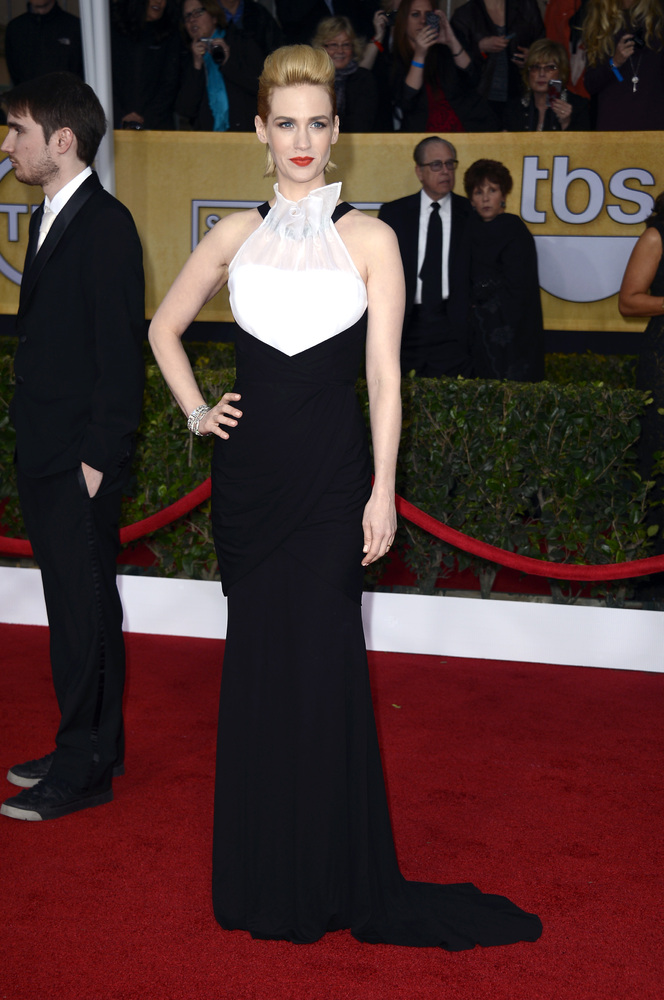 Elizabeth Moss was running late from a job interview at ManPower, but she learned in Glamour magazine that by removing your blazer, you can take a suit from day to night.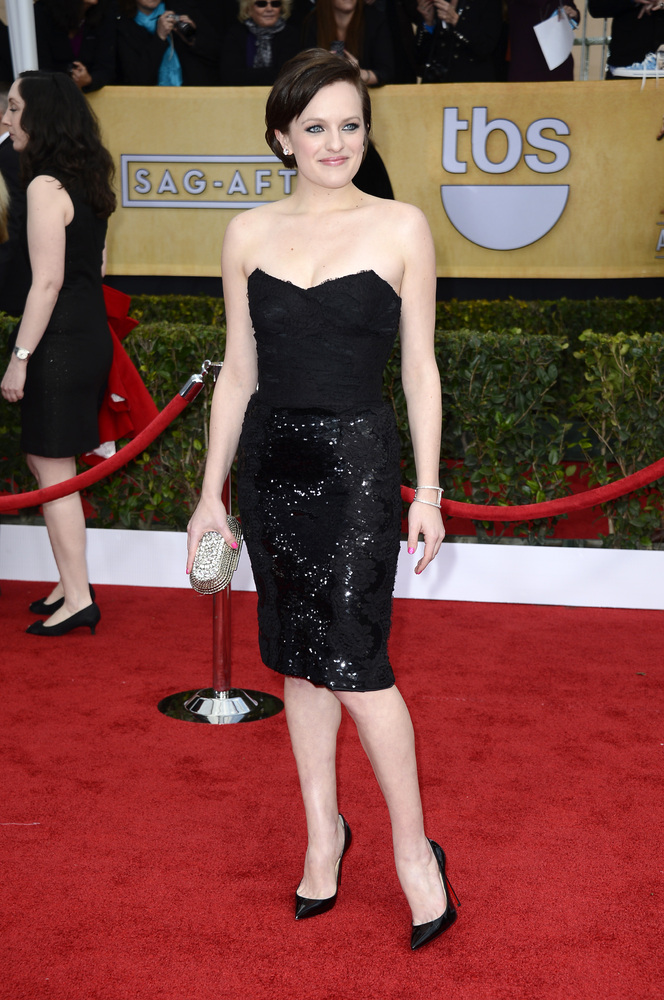 The dress itself and lack of jewelry is a total snooze, but it is made even worse by Jennifer Garner's strange young boy body. If she is trying to ignite baby bump rumors, this is a good way to do it.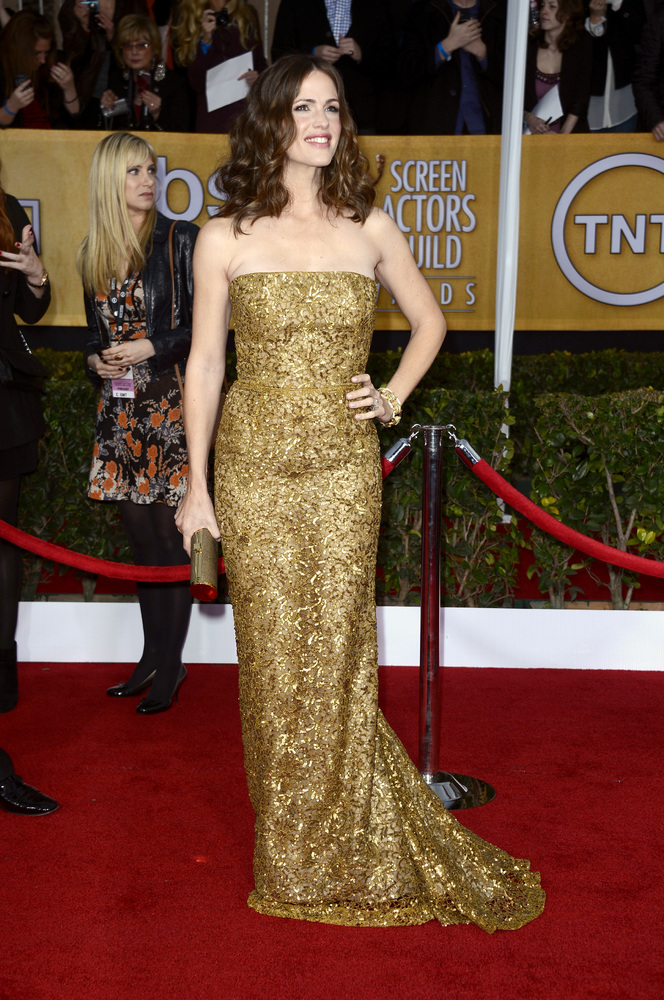 Best Dressed Nominee: Like Marion Cotillard, I love Rose Byrne also known as Ellen Parsons in the Fonty house. Rose donned a gorgeous, springy Valentino. Her hair is a little flat to me, but I love this dress. It is a breath of fresh air during January.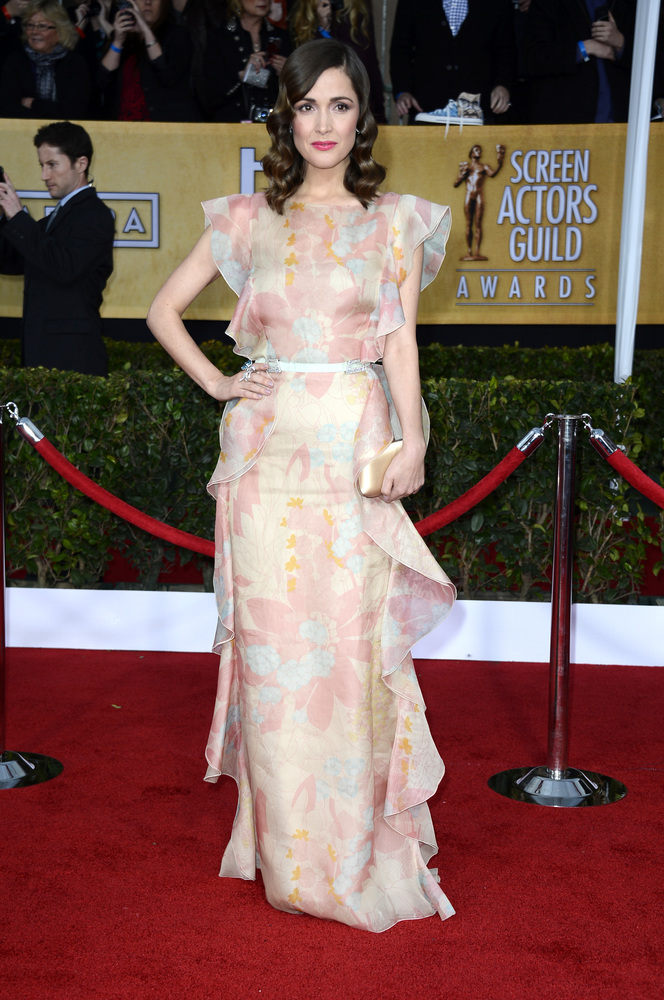 Kiernan Shipka, who plays Sally Draper on Mad Men, is an actual living doll. Here she sports Oscar de la Renta and looks precious.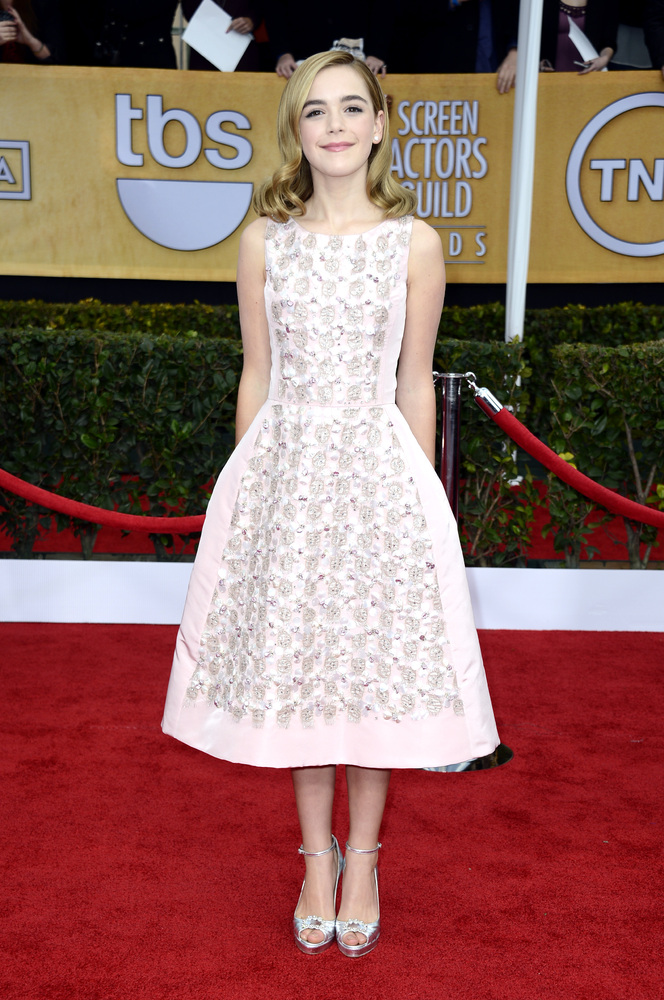 Worst Dressed Nominee: Kaley Cuoco in Ramona Keveza... Kaley, you may want to look to the 12 year old above on how to do tea-length. Everything is so wrong here. Your hair, even if the style was appropriate for a girlie dress, looks like a Spring Break mistake when the flat iron operator has had a few too many pink-panty-pull-downs by the pool. And the dress, oh the dress. I am not even sure if just taking it up the 7 inches it needs to be properly fitted would be the answer. I think the only answer is to go back to the drawing board.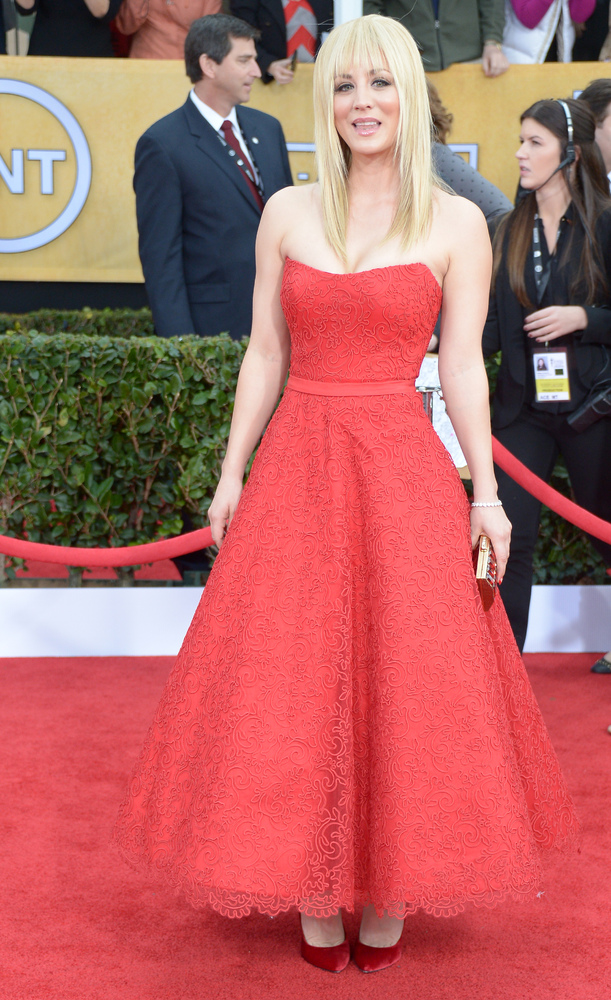 I think Anne Hathaway in Giambattista Valli looks adorable. I like this pixie/sprite look so much better than her trying to be all structured and grown up. Again, Kaley Cuoco, take note here. I didn't watch the show, but I am assuming if she won, she had some pretentious acceptance speech.
Best Dressed Nominee: Jenna Fischer has a storied past on the red carpet (here, here, & here). Sometimes she channels Pam a little too strongly, but this Jenny Packham looks amazing on her. Pam, just start wearing this dress to every event from now on.
Alert!!: Someone's mom has snuck on to the red carpet. Repeat, Someone's mom has snuck on to the red carpet!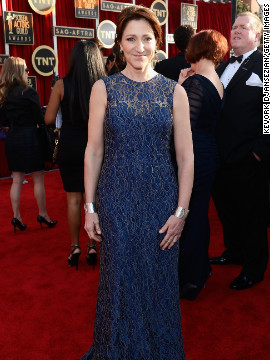 I have no idea what Rory Gilmore Alexis Bledel is doing on the red carpet, but I love this dress. Granted it seems that Alexis missed her fitting, that is the only excuse for it looking 2 sizes too big, but the color and the detail of the dress is so pretty.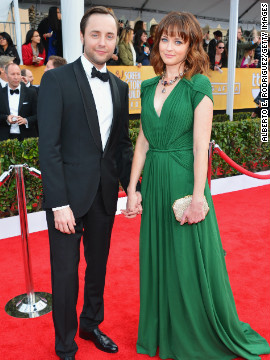 Worst Dresses Nominee: Morena Boccarin, why? why? You are so naturally pretty but you keep taking fashion "risks" and by risks, I mean shopping at a pageant dress shop - and honey, never let the owner, Miss Sassy Glamour Pants, talk you into those shoes ever again. Your hair isn't helping anything here either. Justin Beiber wants his stylist back.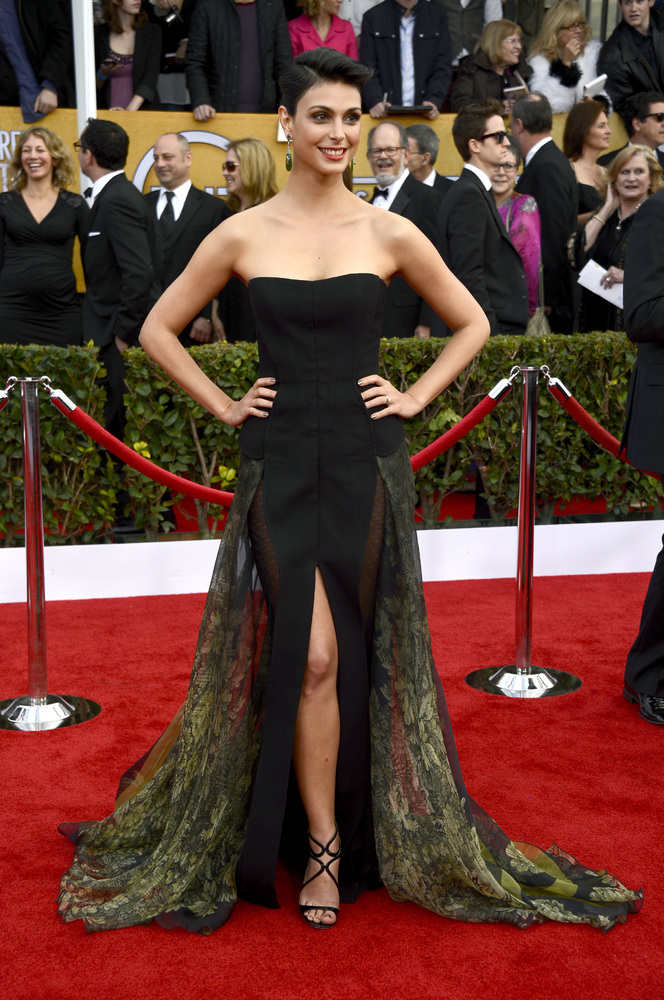 Best Dressed Nominee: Nina Dobrev -- ahh.. to have a 23 year old body again. Way to make all the other ladies on the carpet feel inferior, Nina.
Is Alec wearing a toupee?