Wow, the award season is upon us again. Last night was the small screen's evening to shine, and some did - others... not so much.
I had a few favorites. At the top of the list was:
January Jones in Zac Posen : Sure she may be a raging bitch, but sister knows how to make a statement on a red carpet. I die for this dress. Just wish her hair was less "Robert Palmer" girl.
Leslie Mann in Naeem Kahn : Can Leslie Mann & Judd Apatow get any cuter? I mean, really. I love this dress. It is a breath of fresh air on the carpet.
Guliana Rancic in Ramona Keveza : G wins my award for Best Basic Black. She looks chic - although, what is happening south of her ankle? Those straps make me nervous that she is wearing something from
Nina
. Maybe she is staying up too late with The Duke to address all areas of her styling. At least surrogacy did wonders for her figure.
Keirnan Shipka : Mad Men's first daughter is a style icon at 12. She looks adorable and overly-chicly age appropriate. Please watch this VIDEO. Kiernan was wearing metallic cap toe shoes before Chanel even knew they were cool.
Ginnifer Goodwin : It was really GG's shoes that won me over for this look. I am not super into the mullet hem, but those kicks are too cute (even if they are plastic beyond the cute orange toe). Someone tell GG to grow her hair out though. The androgyny has gone on long enough.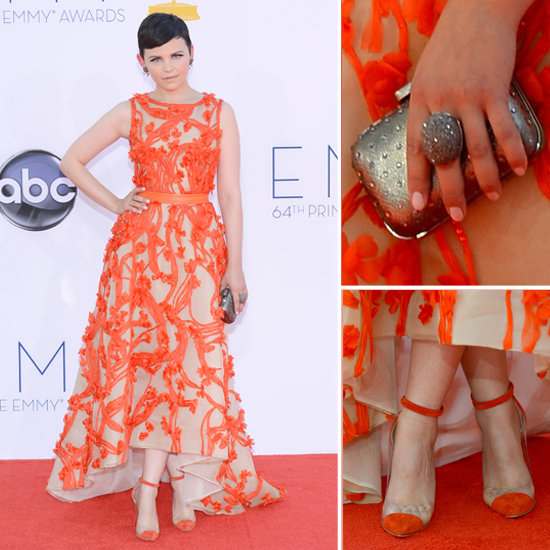 Jessica Pare in custom Jason Wu : And this is how you do Hollywood glamour.
Claire Danes in Lanvin : I didn't even know Claire Danes was pregnant. This Lanvin is a bit sack-like, but she looks so comfortable and I love her hair.
Zooey Deschanel in Reem Acra : I am glad Zooey Deschanel did something less kooky and zany. Still a little Cinderella at the final scene if the blue fairy gets her color wish, but she looks pretty.
Emily Van Camp in J. Mendel : EVC looked phenomenal and I would like to take this time to remind you that Revenge returns next Sunday.
Julia Louis Dreyfus : And this is how you dress in your 50's.
Now on to those poor, less successful folks
Kat Denning in J. Mendel : On the left, you will see the runway version of this look, and on the right, Kat Denning's boobalicious take. Really all she needed was about 2" more fabric and this dress would have been gorgeous - boring, but gorgeous. This dress is sort of like her painful comedy - pretty with potential, but now trashy and hanging all out there. Actually I have never even seen her show. The title has too many words.
Anna Chlumsky : I really wish Anna Chlumsky had taken Mr. Bixler to the Emmy's. Everything would have really come full circle. This dress is actually quite pretty, but her hair color and those shoes (!) make her too mother-of-the-bride.
Kelly Osborne in Zac Posen : KO is a big Zac Posen lady, and for good reason. The man dresses her very, very well. I just wish she hadn't matched her Bea Arthur hair to her gown. Adding the Morticia lip is very off-putting as well. Her body does look banging though - what's the over under that she is either fat again by next Emmys or enters rehab for a QuickTrim addiction?
Jena Malone : No doubt Jena Malone has grown up from her tween acting days (I still have trouble picturing her as anything besides the bratty daughter in Stepmom), I'm not feeling this dress. The neckline should be about 4" lower - Jena and Kat Denning should have split the difference on this.
Heidi Klum in Alexandre Vauthier : Ladies, take note, coming out at 40 with two slits up to your bits reads less "I've moved on from my mangled face husband and am now dating my ogre bodyguard" and a little more "Look at me! I have 2 slits up to my lady bits! Needy? No Way."
Eric Stonestreet : I recently read that Eric Stonestreet's longtime love left him and shortly after became engaged to a new man who she calls "the greatest thing that's ever happen to me". I think all this pain has caused Cam to go on an eating binge, because his belly is bulging out so far, he can't button his coat. But then again, Eric is supposedly dating Charlize Theron. Sort of incredible, if true.
Connie Britton in a pure tragedy : You know you've made it when your big time stylist has a big time designer who wants to dress you for the Emmys. And then you can be like Connie Britton, who is dressed by www.HipPromDress.com. Let's hope Nashville is a hit, and next year at least David's Bridal sends her something.
Archie Panjabi : Continuing the prom dress theme, Archie Panjabi (Is that her real, legal name?) was talked into adding the $45 rhinestone broach at Jessica McClintock. Her sales rep, Tiffany, said it wouldn't be the Emmy's without some "BAAAA;LING!". Archie, Kalinda would be ashamed of this outfit.
Mario Lopez: Sadly, Mario Lopez couldn't make it, so he sent his "Slater goes to prom" Ken doll complete with live action thumbs up move. Available at KB Toy Stores across the country.
Phoebe Price : I have no idea who Phoebe Price is or why she is at the Emmys. I am guessing she is a rep for ShoeDazzle.com, because that is the only explanation for someone to wear a mullet dress showcasing those horrendous cheap, stripper shoes.
Sofia Vergara : I get it, you're Sexy Cha-Cha lady. But really, Sofia, enough with the curve hugging mermaid dresses. Mix it up a little. Stop looking like the slutty girl who stole someone's boyfriend the day before Prom.
James Van Der Beek's wife : What is worse than being the woman married to Dawson Leery? Being the woman in this dress and shoes on the arm of Dawson Leery.
Lena Dunham in Prada : Lena Dunham can act, write, direct, crack jokes. It's good to know she isn't perfect, because girlfriend certainly can't pick a flattering gown. She needs to take a refresher course in dressing for your shape - maybe smiling on the red carpet too.
Michelle Dockery : Bashing Lady Mary feels a bit
sacrilegious
, but even if I was overlooking the massive lap wrinkle, this dress is a tragedy. LM, may I recommend one of those fabulous beaded numbers that drive Matthew wild?
Nancy O'dell : For the record, Nancy O'dell is 46. No self-respecting 46 year-old woman should have hair that shade of bleached, and unless you are hosting the Miss America Pagent, those hoops and that dress are a massive mistake.
Mayim Bialik : Blossom has traded crazy hats for
crazy parenting tips
about breastfeeding and sleeping in bed with your children until they enter college. She wore this matronly number, so she could whip out a boob at anytime and feed her 9 year old on the red carpet. You never know when he'll need a snack.
This has really warmed me up for the rest of the awards fashion season!