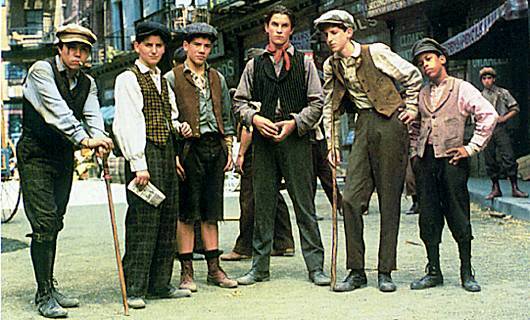 I hope I am not alone in this.. But growing up, I LOVED the movie Newsies. Like, can recite it line by line and know the word to every song, LOVE. The movie stars pretty much every young hunk from back in the day, including a dancing and singing Christian Bale as the lead character Jack. I had the biggest crush on slingshot-carrying "Spot" from Brooklyn - leave it to me to pick the one guy in the cast who went nowhere. Been picking dead beats from the start...
Hey, Spot...
The movie was on HBO a while ago, and I even got Mr. Fonty to watch (part of) it. I think he only tolerated it, because he could laugh at Christian Bale hopping around while singing "Santa Fe".
"Open the gates and seize the day...."
Christian Bale and the kid from Big
So....seeing how much I loved Newsies, you can imagine my excitement when 20 years(!) after it's debut, Newsies is finally on
Broadway
! I think I may have to make a spring trip to New York. Anyone want to hit the matinee with me?? The show was just extended and will run through August 19.
Newsies on Broadway