I apologize for the late post. My DVR of the finale of the Killing took major priority over the Bachelorette. Justice for Rosie Larsen!
But enough of that.. On to Emily's quest to find Mr. Right Until The US Weekly Cover of "What Went Wrong?"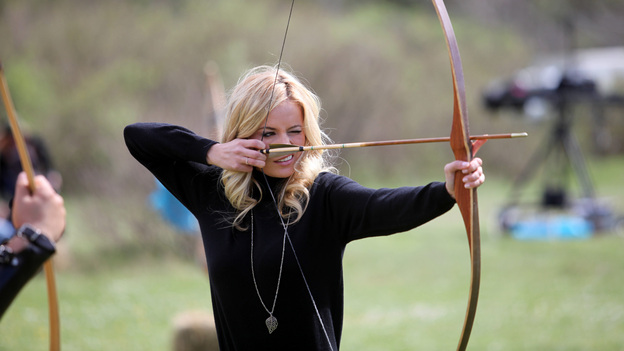 Cue the Cupid's Arrow Symbolism
Aim for the heart, Em!
The boys, Emily & Chris Harrison head to Croatia this week. It is stunning and made me want to be on vacation. In her intro, Emily talks about how with all the remaining guys, she either knows exactly how she feels or is totally clueless.
Gee, I didn't realize it would be hard to get to know someone with 6 other dudes hanging around doing shirtless push-ups or preforming in drag.
Travis, sans his egg, got first solo date. This is the first time we have seen him talk to Emily aside from the egg smashing. Their date, as with most of these dates involved things you might do with a gal pal, shopping, eating ice cream, jigging in the street...
I wish I had more interesting notes about this date, but it was so boring and Travis is a giant nerd that would have no chance with Emily in real life. As expected, Emily does not feel any chemistry with Travis and sends him home. Travis wells up with tears and walks through the rain. In a dramatic turn of events, he throws his umbrella to the wind and walks uncovered in the rain. Drenched, just like his heart. I'm sorry, Travis, that after one date, a girl did not want to marry you. This scene was actually so hysterical, I had to call Mr. Fonty in the room to watch the replay.
You show that umbrella, Travis.
The next day, the guys set out for the group date. Emily doesn't hold back in showing her pack of 10 year-olds grown men a good time, by taking them to see the Pixar movie, Brave. I'm not sure if the producers made them act like this was a serious movie or if they are all just that dense, but the guys get really deep delving into the hidden meanings of the movie - that was written for children. I have a feeling the writers of this movie were not talking about being Brave in the face of love and fighting with 25 other men for a woman's attention. Nope, pretty sure Pixar is insulted that you are relating this movie to your situation at all.
After having to go see a kid's movie, Emily makes the date even better and creates a field day for her

pack of

10 year-olds

grown men. And she makes them wear kilts:
Little foot showin' some knee. That's brave
The belittling gets even better when the guys have to ride into the games on donkeys: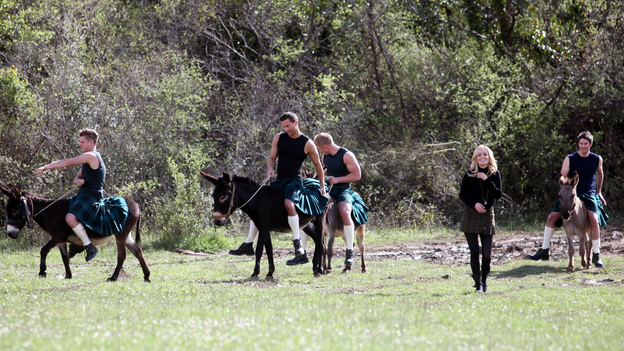 Emily: "MwaaaaHaha. These chumps really will do whatever I say"
Please note the far right how Arie's feet are nearly on the ground
Littlefoot takes every opportunity to reference the movie, and how he will be brave like the films heroine. He poises himself like a pretty, pretty princess and shoots the arrow directly in the ground.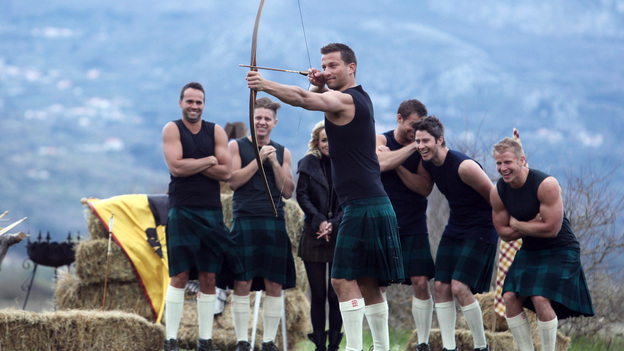 Littlefoot blames his inability to hit the giant circle on only having only one shot.
Because he sucks at archery, Littlefoot tries to redeem himself by volunteering to be the first to compete in the next competition of throwing a large tree. He was no more successful, and is disqualified for being a pansy This, he blames on a lack of practice as if the other guys all threw trees in the backyard in preparation for coming on The Bachelor. I retract that, they probably did.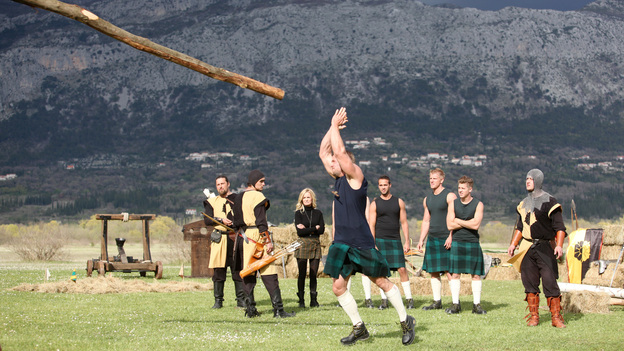 All the other guys are able to complete the task including Sweet Sean the muscle He-man who throws his tree so hard he breaks it. Emily said he

looked "hot" (Her only requirement for a husband and the highest compliment she can offer.)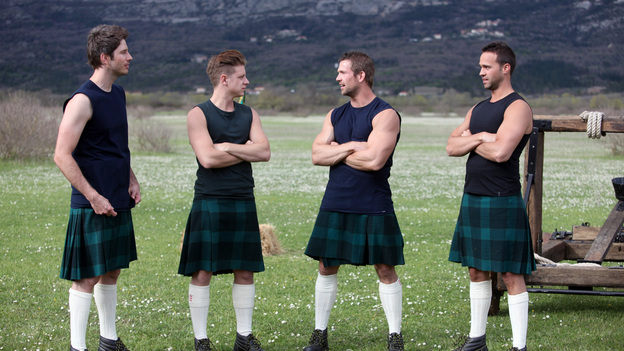 Jef are these knee-highs the same brand as your baby blues?
The men then move on to the life size thumb wrestle. Littlefoot gets drawn to pick his partner, and chooses Daddy Doug to bring their squabbles to the mat. Daddy Doug works him and Chris has no one to blame but himself.
At the end of the day, like any little league season, Emily has a trophy for the

pack of

10 year-olds

grown men. This trophy is deemed the "Brave Mug". Sweet Sean thinks he is a shoe in because he broke a tree and flexed his muscles really hard. But Emily denies him and takes pity on the Littlefoot for looking like a nerd.

Littlefoot's bravery earns him some alone time and a make out.
They move onto the standard cocktail party. Arie steals Emily away to a dark alley and forcefully makes out with her. I hope Ricki doesn't see this and think this safe behavior.
However, Arie's kisses aren't enough, and she give the rose to Littlefoot, because he is "handsome". gag!
I officially think Emily deserves to be alone.
What?! She gave Littlefoot the rose? But he didn't even come near the bullseye
While the boys are playing schoolyard games, Ryan gets his date card. He then spends the next 3 minutes waxing on about how wonderful he is and how Emily couldn't stay away from his animal magnetism and his strangely sculpted facial hair.
Ryan's casual wear sponsored by Lululemon
When Emily picks Ryan up, he drops every cheesy line in the book. Luckily Emily responds with sarcasm. She is gaining points back in my book after the Littlefoot debacle.
The first stop on the date is to go, as Emily puts it, "oystering". On the boat, Emily refuses to eat an oyster. Now, she has the power to bring her kid around, base the show in Charlotte, but she can't have any say in her dates? Why would you go on an oyster boat if you don't eat oysters?
The couple puts on their evening wear to have dinner in a local castle, because Emily, like all girls, is a princess. As the night goes on and his pick up lines are not working as well as they do at his local Hooters in Augusta, Ryan moves to sports metaphors about greatness and god. It's painful to watch.
But not as painful as when Ryan pulls out yet another letter he wrote. This one is 12 qualities he wants in a woman. Ryan's list backfires when Emily's says 'a loving family" is on the top of her list, and doesn't even make his top 12 - I'm guessing it must have been knocked off for "being a servant".
Ryan looks as if he is going to slowly and tortuously kill Emily for dismissing him.
No.One.Denies.Me
He then tells her she is making the wrong choice, while still plugging himself to be a Bachelor contestant. Ryan unrelentingly tries to talk Emily into going back on her decision like a total pedophile groomer. It is really creepy, and I can now see how a woman could be date raped without ever saying "no". For a minute, I thought he had her!
When saying goodbye, Emily says it will be hard to see him go because he is "a great looking guy". Who's the trophy wife now? Ryan walks into the night wearing his turquoise velvet shoes that look like he has on aqua socks. Emily needs to walk through the streets of Croatia alone with her rose to think about the damage she's done.
All alone with my pain -- and the camera crew
When the nightclub bouncer comes to get Ryan's bag, the room erupts in disbelief. Arie could not stay away when he heard Emily sent Ryan home, and rushes to her house to be with her. And I begin to hate him even more. Arie is slowly reminding me of a boyfriend who after one date is baby talking and making judgements about your friends' drinking habits. They make out in Emily's bed and giggle about the next time Arie will wear a skirt.
Before the rose ceremony, Emily says Daddy Doug and Wolf are both on the bubble. In a desperate attempt to win a rose,
Wolf pulls out his grandparents funeral cards from his wallet and talked about the anniversary of his grandfather's death. What girl is going to send home a guy on a death anniversary? Daddy Doug opts for the tried and true forced tears. He is far less comfortable when not using his child to woo women.
If you squeeze really hard, you may get a tear drop
And in the most dramatic rose ceremony in bachelorette history Chris Harrison allows Emily to have an EXTRA rose and keep both men. Now that is love...
I am counting the minutes until the next episode. Arie, the former front runner in my book, now the annoying needy baby talker, apparently has an ex on the crew. I wonder if she is embarrassed she ever dated that guy.