Before I get to the two album picks this week, I have to make a self-serving announcement... We were proud to launch our new label out of Athens last week,
Normaltown Records
. If you visit our website, you can get a FREE download of our promotional split 7 inch, featuring "
White Oak
" by Kalen Nash and "
Lays Around Lazy
" by White Violet:
and of course, don't be afraid to "
like
" us on
facebook
:
and now, for this weeks much-anticipated picks...
Diamond Rugs
(
self titled
)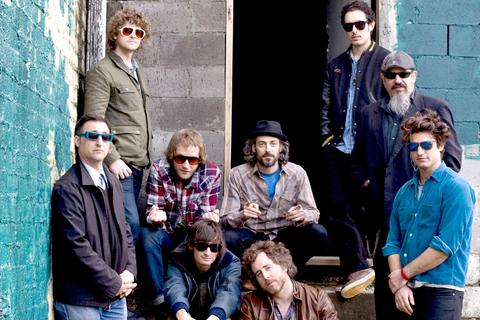 Diamond Rugs
is the latest "supergroup", assembled by
Deer Tick
frontman John McCauley. Accompanying him with the singing and songwriting duties are my friend Hardy Morris from
Dead Confederate
, and Ian St. Pe of the
Black Lips
....along with notable band members Steve Berlin (Los Lobos) on keys and horns, Bryan Dufresne (Six Finger Satellite) on drums, and
Deer Tick's
Robbie Crowell on bass. And as an added bonus, my buddy Spencer Cullum Jr. sprinkles in some pedal steel.
This album
is a grunge-tinged roots-rock gem, and does a great job of capturing essence and fun of the moments these guys obviously had making this record together in the studio.
Father John Misty
--
Fear Fun
Former
Fleet Foxes
drummer
J. Tillman
already proved on his first solo release that he needed to get out from behind the kit and up to the front of the stage. With this latest release, under the moniker
Father John Misty
, he takes it to the next level. His vocals are excellent, and his songs funny, poignant, and interesting. Plus, the guys is a performer, plain and simple. Check out his recent Letterman appearance: