Nearly 50 minutes into E!'s Live From the Red Carpet coverage, we were still listening to Kelly Purple Hair talk to that guy with a girl's voice about dress predictions. Not sure if everyone was fashionably late or if E! wanted to rob an hour of my dvr memory. The first actual star to arrive is Jessica Chastain. Phew! I was getting nervous it would be 4 hours of Seacrest trying out the mani-cam.
Overall I was a little let down with the red carpet this year. Where was the excitement and the risk taking? There was a massive lack of color and gorgeous jewels on the carpet. C'mon stars, give us something to look at!
Jessica Chastain wore Armani Prive, and the girl FINALLY got it right! I have just accepted that she dresses like a woman 30 years her senior and Jessica Rabbit hair is her thing. This picture does not do the dress justice. The color worked really well with her alabaster skin and had gorgeous details. The red lips make the look.
Every time Amy Adams walks a red carpet, it makes me sad. This Oscar De La Renta is no different. Yes, it is pretty. On anyone else, I may have loved it, and I must give her props for not mucking it up with terrible jewelry or bad hair (like she usually does). With that said, I feel like we've seen this dress so many, many times before - only better. I'm looking at you Penelope Cruz.
I know I will probably be crucified for this next statement, because everyone just looooves Reese, but... Reese Witherspoon is taking her time losing the baby weight. Even if she is back in fighting shape, this satin Louis Vuitton royal blue number is doing sister Nashville no favors, especially from the side. I imagine she had several fittings for this gown seeing that she was a presenter. Couldn't they have fitted this a little better? Her boobs look like a pre-teen who can't fill out a top and the fabric gapes at her belly. However, her hair is very pretty. I will give you that.
Octavia Spencer looked pretty and predictable in (predictably) Tadashi Sohji. Love the dress though. The pearls on the bodice were very pretty. Melissa McCarthy, this is how you do plus sized.
Bradley Cooper pulled the young heartthrob's favorite move, bringing his mom, Gloria, as his date. While Bradley got all dressed up with shellacked hair (the male equivalent of an up-do), his mom opted to wear a Fredrick's of Hollywood feather robe and black Airwalks. Being troll-sized, I think some heels could have done a body good.
I really can't decide if I like Zoe Saldana's dress or not. I know I hate the giant white AIDS ribbon on her hip, but the rest of it is interesting and fashion forward. It's also hard for Zoe Saldana to make anything look unattractive.
Amanda Seyfried, we get it, you're in a serious movie. Now that you aren't a minion in Mean Girls or the lead in a Nicholas Sparks movie, you can come out as some young fashion icon who has custom McQueens made for you. But in the future, try to remember you are still in your 20's and not Sigourney Weaver.
Lots of hype surrounded what Jennifer Lawrence would wear. In the end she chose a MASSIVE Dior Haute Couture gown. This is not something I would normally be into, but sister pulls it off, and manages to not make it look like a wedding dress Carrie tries on in Sex & The City: The Movie. Her backwards necklace, though, is very Carrie Bradshaw. I like that it keeps the look young, but this isn't a trend I want to see again.
Sally Field is one word: Adorable. Love it.
And the Worst Dressed Goes To: Melissa McCarthy. Holy moly. Where to begin? Let's start with how she borrowed Jessica Chastain's hair dresser to achieve this super-flattering wind blown look. I guess the one good thing about hair that bad is that it takes a minute for your eye to move down to the toga of a dress. Granted, she is a large woman, but at least make a tiny effort with some Spanx and a little ruching. Her stylist should be shot.
I don't think Jane Fonda's face is able to blink or move anymore, but she looks darn good in this dress. I'm going to need to sign up for some yoga classes.
Jennifer Hudson very publicly lost weight for Weight Watchers. You'd think she would hide some Spanx under her Cavalli. WW is going to be pissed to see that gut hanging out on national television. J. Huds, you may want to cut back on those midnight pizzas.
Helen Hunt wore H&M made from green fabrics or some sort. Her wrinkles are case in point why you should splurge for a big event and why green living should stay far, far away from fashion.
Anne Hathaway is having a Gwynie moment in pink, only done so as found on the racks of David's Bridal. She should have put on some low beams, because my eye was nearly poked out by her darted nipples. Apparently, there was some Valentino drama behind the scenes, and Anne decided to wear this Prada at the last minute. I wish we could see this Valentino, because this can't be the dress that necklace was paired with. It totally competes with the mother of the bride neckline. However.. did you see her Armani performance dress? That number was a winner.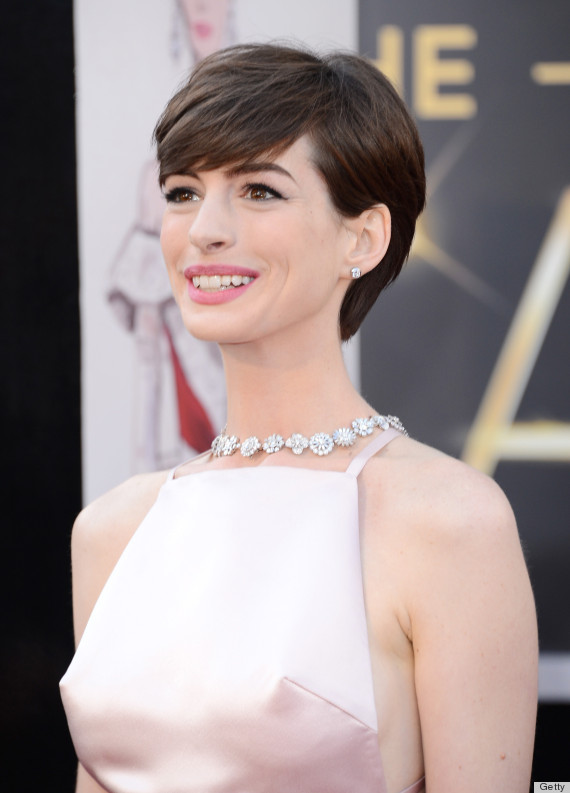 Best Dressed Goes To: Naomi Watts in Armani Prive. This is what a dress made to fit you looks like. Gorg. Love it all.
Charlize Theron wore the less sparkly version of Anne Hathaway's Golden Globes dress, complete with cropped 'do. She looks stunning, because she could be wearing an airbrush bikini t-shirt and look fabulous.
Nicole Kidman's body looks banging, but that is where my compliments end. If you took away some material, this could be a Cher costume from the late 80's. The swirls at the bottom are as atrocious as the mini WWF belt at her waist.
Sandra Bullock looked predictable, but very pretty in Elie Saab.
Selma Hayek finally put the girls away in favor of a black velvet ice skater costume.
Kelly Rowland - There are no words for what is happening here from 9" of bang to the shoes.
I
I had to double check that this was in fact Brandi Glanville. Who invited her to the Oscars? And which RHOBH enemy did she allow to dress her? The girl is one F-bomb away from a purposeful nip slip.
Does Nancy O'Dell employ MarySue Louise Sparkle Sunshine of MarySue Louise Sparkle Sunshine's Shining Pageant Dress Designs when Miss America is off air? There is no other explanation for her parade of pageant dresses on every red carpet.
Olivia Munn plays the role of an aging Geisha so well.
Norah Jones looks like the former nerd who had a lot to prove at her 30 year high school reunion, so she put on the evening gown she wore to her son's wedding and had the ladies at the Hair Barn give her an updo.
Not sure what is more shocking, that I like Stacy Keibler's dress so much or that she is attending her second Oscars on George's arm.
I am so happy Christoph Waltz won. I thought he was insanely good in Django Unchained, and I just love him. How adorable is his blue suit and his elegant wife? Well, done, Christoph
Jennifer Garner. All was looking okay until you get to the too short hem, the matchy stripper shoes and the.... Panty Hoes??
Kristen Stewart, it would be such a shame if you washed your hair for once.
And to close out the red carpet, Mark Ruffalo's wife wore this...