I have to say, for the most part, the Oscar fashion was a bit of a snooze. No one was
that
bad or great. I wish we saw some of
Imperfect Polish's
picks.
Best Dressed:
Yes, the cape trend is a bit worn out, but Kate Hudson looked in-saaan in Atelier Versace. (And for the record, it's not a full cape, but sort of a back drape) It's exactly what I would picture
Andie Anderson
wearing to the Oscars. See the pretty detail shots
HERE
. This is how a girl wears a plunging neckline (I'll get to you in a minute, Lupita.) I'm not really sure why Kate Hudson is presenting at the Oscars, but in a dress like this, she can stay.
Best Dressed As Well: BAM!! Now that's a woman, folks.
Best Dressed Couple: Wow... This is one good looking couple. I am obsessed with Olivia Wilde's Versace dress. It is a gentle reminder that I will never look even remotely this good when pregnant, or ever.
Blue Moon:
I know I am going to be in the minority here, but I didn't love Lupita Nyong'o's Prada gown. She suffers from
Sheryl Crow syndrome
, where her chest is too muscular (bony?) for the deep V. I have a serious love affair with knife-pleat chiffon dresses, and this dress flowed beautifully, but maybe she should stick to structured gowns. While cute from the front, the side angle of the headband on her short hair was odd looking. It reminded me of when people put headbands on their bald babies in an effort to tell world 'It's a girl'.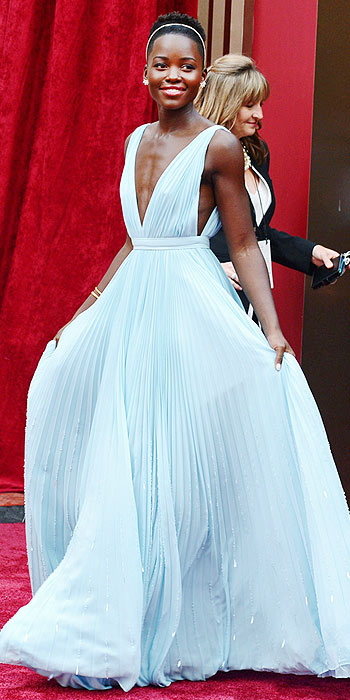 Oops, I did it again:
Amy Adams looked banging in Gucci... from the neck down. Once again she lets her hair ruin her whole look. Is that a high side
ponytail
bun? If you get a close up shot of the hair, there is also a strange bang wave - we all know how Amy never misses an opportunity to go 1920's. Amy Adams needs to stop being in films, so I can stop getting frustrated by her complete lack of style.
Best Styling: This picture does not do Naomi Watts justice. She looked fabulous. Her necklace made this dress, almost looking like an embellished collar. I also like the black shoes with the black and white bag. (I'll ignore the fact that she looks better with her hair pulled back). Presenter Perfection.
My Best Fried: My BFF, Anna, was presenting at the Oscars. Her dress was made for tearing up the after parties. I'm her +1.
Spawn of Crazy: If my dad was publicly writing diatribes about leaving the public eye, I guess I'd dye my hair white and shred my Oscar gown too. Can someone tell me why Ireland Baldwin was on the carpet at all?
Better On the Hanger: Guiliana flashed a glimpse of this dress on E! News (I'm only slightly embarrassed to admit to watching every day on Friday.) This dress was so pretty on the hanger that I hoped she would wear it, and then she did... And then she did. This dress swallows her. I can't decide if it would be prettier with a longer bodice or less skirt or if it was tighter or if it was left on the hanger where it looked so stunning.
Welcome Back, Ann Hathaway: Guess in your spotlight downtime you have been rehearsing for your role as a Lesbian in Shining Armor.
Lamest Hype Machine:
I don't know about you, but I am so over Brad & Angelina fever (my impeccable immune system actually helped me never catch it in the first place). Brad Pitt hasn't been attractive in a really long time - and his
current don't 'do
does nothing to change this fact. While Angelina's dress is pretty, it's fit is distracting. She must have been too busy bringing water to her future adoptive children in Nairobi to have a proper dress fitting. I think we are 1cm away from a nip-slip or her revealing Billy Bob Thorton's blood vile necklace.
Things That Make You Go "hmmmmm": Matthew McConaughey's wife's dress is a glorified pink blanket, and yet, she looks stunning, and makes me want to wear my coverlet to my brother's wedding this fall.
Back to Bed: While Matthew McConaughey's wife committed to her blanket, Penelope Cruz got nervous, and, at the last minute, decided to scrap the comforter and tie just a bed sheet to her arm. She then tied a ribbon around her waist to distract your eye. Penelope, your slight of hand tricks failed this time.
Said 'Yes' to the Dress:
I can see the scene of Jena Dewan Tatum finding
THE
dress. The team at Kleinfeld's had a morning meeting about helping celebrity customers. The store was a buzz with excitement. Pnina was in the shop, and she talked JDT into the s
ee through lace bustier dress
favored by aging second-time around bides and/or sexy princess brides. Jena was all set with the dress when Vera swooped in, and told her it would be impossible to do the alterations in time. Thank goodness Randy was there to save the day with an off the rack sample Reem Acra dress. The rest is Oscar history.
So Pretty I Fell Asleep: I was watching some show where someone was saying they were excited to see what Jessica Biel would wear to the Oscars. What?! Has Jessica Biel ever worn something exciting? This dress is a snooze (and sort of gives her the illusion of a spare tire), just like her.
When Really Beautiful People Go Goth:
Not since
Stassi
has someone looked so much better as a blonde. Seriously, can someone tell me what happened to beautiful, stunning, adorable, etc, etc Margot Robbie? Is this an Ali G stunt?
The Middle of the Pack: They all looked fine, not great, just fine. What more can you say?
Who are your picks?! Please share